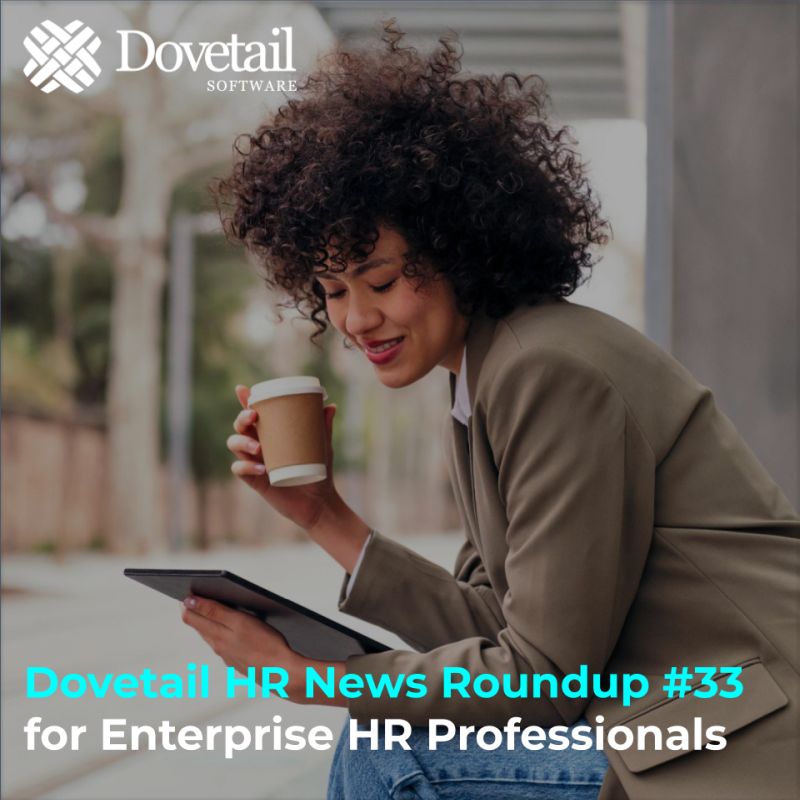 Latest HR News:

Exploring the Role of ChatGPT and HR Technology in Improving the Employee Experience

Welcome to the Dovetail Monthly News Roundup, where we bring you the latest developments and trends in the world of HR and technology.

In this edition, we explore the potential of ChatGPT, the Generative AI tool, in HR, and the launch of its latest AI model, GPT-4. We also delve into the practical uses of ChatGPT in HR, beyond job descriptions, and the concerns surrounding accuracy, bias, privacy, and ethical considerations associated with its use.

In addition, we cover topics such as employee experience, compliance, and HR case management, including case studies of Dovetail's software implementation at Tower Health and a multi-billion dollar soft drinks distributor.

Join us as we examine how technology is transforming HR and the employee experience!

ChatGPT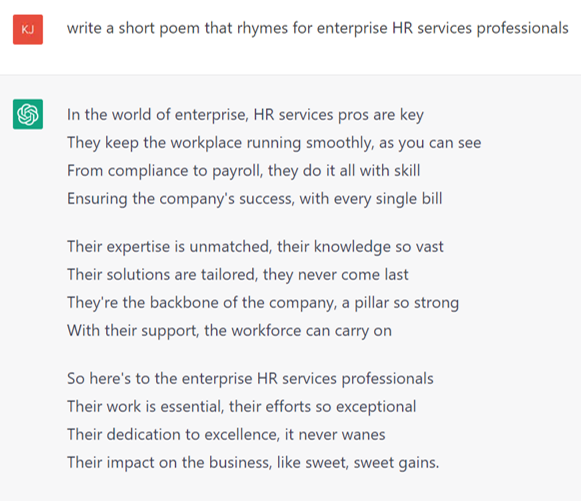 In this section, we explore the potential uses of ChatGPT, the Generative AI tool, in HR, the launch of its latest AI model, GPT-4, and the practical uses of ChatGPT in HR, among other topics. While AI tools such as ChatGPT have enormous potential to increase efficiency and productivity in various industries, there are also concerns surrounding accuracy, bias, privacy, and ethical considerations associated with their use.


New MIT Research Shows Spectacular Increase In White Collar Productivity From ChatGPT
In this article by Josh Bersin, HR Analyst, describes how two MIT Economics PhD candidates who conducted a study on the impact of ChatGPT on white collar productivity found that the ChatGPT-using group completed tasks 37% faster than the non-ChatGPT group, with similar quality. The ChatGPT group also improved their work quality faster through iterations. The researchers found that the tool reduced brainstorming and rough draft creation and was used more heavily during final editing. The respondents using ChatGPT said they were willing to pay a monthly fee of 0.5% of their salary to access the tool. The author believes that Generative AI and ChatGPT have an enormously positive role to play in the future, and it's up to users to use it for good.
Discover more about MIT's Research.


The Role Of Generative AI And Large Language Models in HR
In this post, Bersin discusses the potential use cases of Generative AI in human resources, including:
creating job descriptions
analyzing and improving pay, salary benchmarks, and rewards
performance management and feedback
coaching and leadership development
individual coaching, mental health, and wellbeing
HR self-service and knowledge management
Generative AI can help improve recruiting by crawling millions of employee profiles and analyzing the work they did to determine how good they are at their job. It can quickly do salary benchmarking and analyze external and labor market data to help understand competitive pay, rewards, incentives, and other benefit programs. Generative AI can index a year of an employee's work to help managers assess their performance and even coach them to improve their skills. It can also assist in mental health and wellbeing by listening to users and helping them relax and move forward. Finally, Generative AI can help in self-service and knowledge management by aiding employees in understanding company policies and selecting benefits.
Power of ChatGPT4
OpenAI launched its new AI software, GPT-4, on March 14, 2023, and developers are already finding incredible ways to use the updated tool, which has the ability to analyze images and write code in all major programming languages.
This article explains how GPT-4 is a large multimodal model that can accept longer text inputs of up to 25,000 words compared to the previous 3,000 words and is trained to be safer and more factual. Companies are coming up with ways to integrate GPT-4 into their products, and doctors are even considering using it for patient consultations. However, public anxiety is increasing over how people will compete for jobs outsourced to artificially trained machines.


Beyond Job Descriptions: 6 HR Tasks ChatGPT Can Do for You
According to this post by Joseph Romsey for SHRM, ChatGPT can help HR professionals perform a variety of tasks beyond writing job descriptions. These tasks include recruiting, onboarding, administrative tasks, employee self-service, employee surveys, and performance reviews.
However, relying uncritically on ChatGPT without performing a careful, human review of its generated content has some potential risks. To maximize ChatGPT's benefits and reduce risks, HR professionals should provide detailed source information, verify the tone of the generated content, and ensure compliance with data privacy and legal standards. Ultimately, ChatGPT is an essential HR tool that should be used critically and selectively.
Find out more.

ChatGPT, the Workplace and HR: Use Cases and Warnings
The article discusses the practical uses of ChatGPT in HR, including tasks such as composing and responding to emails, handling employee queries, and conducting assessments. However, there are concerns surrounding the accuracy, bias, sources, plagiarism, privacy, job displacement, and ethical considerations associated with the use of ChatGPT in the workplace. The article highlights the need for HR practitioners to examine the parts of their job that are likely to be augmented or replaced and to develop the necessary skillset to adapt to changes brought about by AI. It also emphasizes the importance of organizations putting in place policies and procedures to prevent misuse of AI tools.
The Best Books on Artificial Intelligence, Recommended by ChatGPT (and Humans)
In this article, ChatGPT and humans, recommend several AI books for the general public to learn about artificial intelligence. The books cover topics such as the potential and pitfalls of AI, ethical concerns, and the possibility of superintelligence. Some examples include "Human Compatible" by Stuart Russell and "The Singularity is Near" by Ray Kurzweil.


Employee Experience

Employers are Focusing on Employee Experience Over Cost Savings
A survey has found that three out of four business leaders prioritize total value creation over cost savings in their talent acquisition strategies, up from double the number in 2022. The survey also revealed that companies are investing in areas such as diversity, equity, and inclusion, using technology to improve engagement, creating talent communities, and conducting internal audits to map the candidate experience. The findings point to a need for businesses to differentiate themselves by delivering an outstanding talent experience, spanning attraction, engagement, hiring, development, internal mobility, career transition, and retirement. The survey also found that talent scarcity remains a major challenge for businesses.


9 Ways to Manage Hybrid Employees for Better Productivity
This Gartner article provides nine tips for managing hybrid employees for better productivity. These tips include:
identifying employees' work values
focusing on flexibility
fostering connections
reinforcing what the organization has to offer
trusting employees
increasing transparency and visibility
embracing different work modes to spark innovation
amplifying recognition
equipping teams with the right technology and tools.
The article emphasizes the importance of accommodating the standard of hybrid work models and evolving policies to provide employees with the support they need to navigate hybrid work and remain productive and engaged.
Find out more about what Gartner has to say about Hybrid working and employee productivity.


The Ultimate Guide to Employee Experience (EX) Technology
The Ultimate Guide to Employee Experience (EX) Technology by Dovetail Software explains the importance of EX technology to organizations in the world we live today. It discusses how the employee experience is the interaction between the employee and the company, and how it can be improved through the use of technology. The article highlights the advantages of adopting an EX approach, including increased productivity, engagement, retention, and team collaboration. The article also emphasizes the impact of the pandemic on employees, particularly due to remote working and mental health concerns. It goes on to discuss how HR Services technology, such as HR Case Management and Employee Portal software, can help improve the employee experience by providing efficient communication and self-service capabilities.
Find out how you can use technology to improve the experience of your employees at work.
Dovetail Insights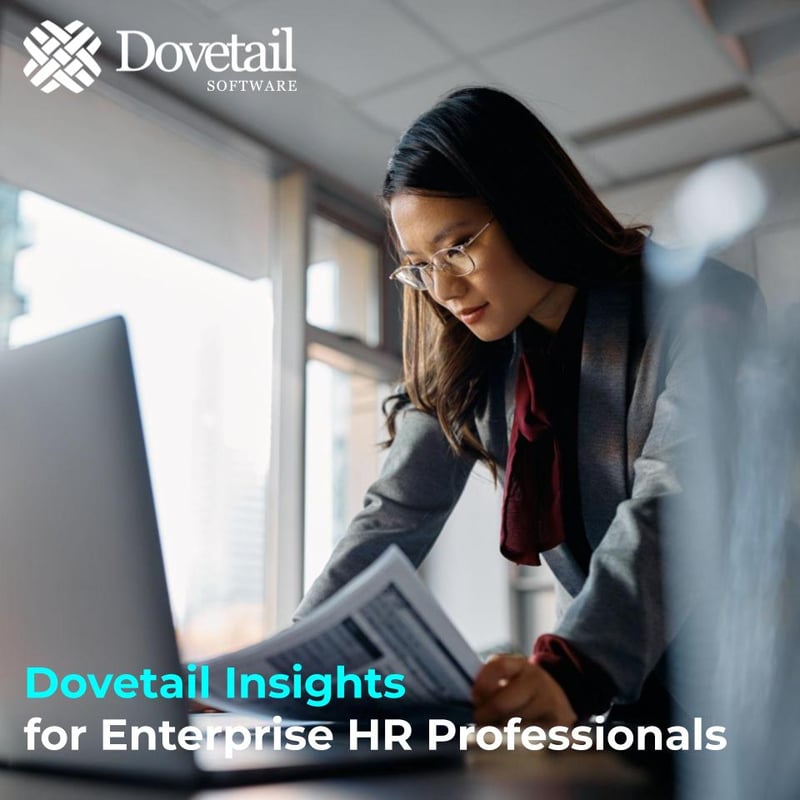 In the constantly evolving world of HR compliance, companies need to stay on top of regulatory changes and ensure their policies and practices are up-to-date and compliant. Dovetail, a leading provider of HR case management software, has partnered with Mineral to help HR teams navigate the new HR compliance landscape. Additionally, Dovetail's software has been adopted by Tower Health and a multi-billion dollar soft drinks distributor to improve HR-employee communication, optimize workload management, and enhance the overall employee experience.
Furthermore, Dovetail Software has retained its position as the best HR Service Delivery software for the second year in a row according to the Sapient Insights 2022-2023 HR Systems Survey, with its HR Case Management and Employee Portal products receiving the highest scores in User Experience and Vendor Satisfaction.


2023 HR Compliance: Navigating the New Landscape with Dovetail and Mineral
Dovetail has partnered with Mineral to offer clients a comprehensive HR Service Delivery platform that helps HR teams stay on top of compliance trends for 2023. The platform provides resources to help clients track regulations at the state level, set up notifications for regulatory changes, and manage various leaves on a day-to-day basis. Mineral also offers a Salary Comparison Tool and an Employee Handbook Builder to ensure that policies are up-to-date and compliant with state requirements. The platform's Minimum Wage Map offers a quick interactive resource of state pay requirements at a glance.
Discover more about the Dovetail Mineral Partnership.


Case Study: Tower Health Adopts Dovetail Employee Portal to Improve the Employee Experience of Work
Tower Health, a regional healthcare provider with over 14,000 employees, has adopted Dovetail's Employee Portal to improve HR-employee communications and the overall employee experience. The COVID-19 pandemic had created a need for remote/hybrid work and faster, more engaging employee communications, as well as mitigating risks to HR service levels. Dovetail's Employee Portal provides a central hub for all HR content and enables employees to find answers to their questions, stay up to date with changing work practices, and provide feedback for continual improvement. Tower Health has also adopted a multi-tiered HR services operational model, which is supported by Dovetail's HR case management and knowledge management capabilities.

Read the case study.


Case Study: Multi-Billion Dollar Soft Drinks Distributor Improves Employee Relations With Dovetail Case Management Software
A multi-billion dollar soft drinks producer and distributor in the US adopted Dovetail ER Case Management software for their Employee Relations team in 2022. The new team, consisting of five Employee Relations Partners, a Leave & Accommodation Partner, and an Employee Relations Manager, needed a solution to deal with the lack of documentation and case management capabilities, ineffective ER case management tools, and limited visibility of work. Dovetail's configuration capabilities and wide range of features, including case tracking and escalation, email and notes, templates, audit timeline, and out-of-box reports, helped the Employee Relations team to improve operational efficiency, collaboration, and workload optimization. Dovetail's software also enabled the team to integrate with Ceridian Dayforce HCM system and provide concrete data to demonstrate the actual workload and the need for additional support.
The success of the Dovetail software has led to other teams under the Director of HR Compliance, Employee Services, and Employee Relations, including Payroll, Labor Relations, and HR Services, to move their operations to the Dovetail's Case Management system.

Read the case study.


HR Case Management: The Ultimate Guide
HR Case Management: The Ultimate Guide, explains in detail all you need to know about HR Case Management software including features such as: Case Tracking, Workflow Automation, Reporting & Analytics. It covers Dovetail's HR Service Delivery Experience, which includes HR Case Management, Employee Portal, HR Knowledge Management, and Reporting & Analytics, all aimed at enhancing the employee experience and improving HR operations. The guide highlights the importance of providing a consumer-like digital experience at work to improve the employee's satisfaction with HR services.
Discover everything there is to know about HR Case Management software.


Employee Relations Management Software in 2023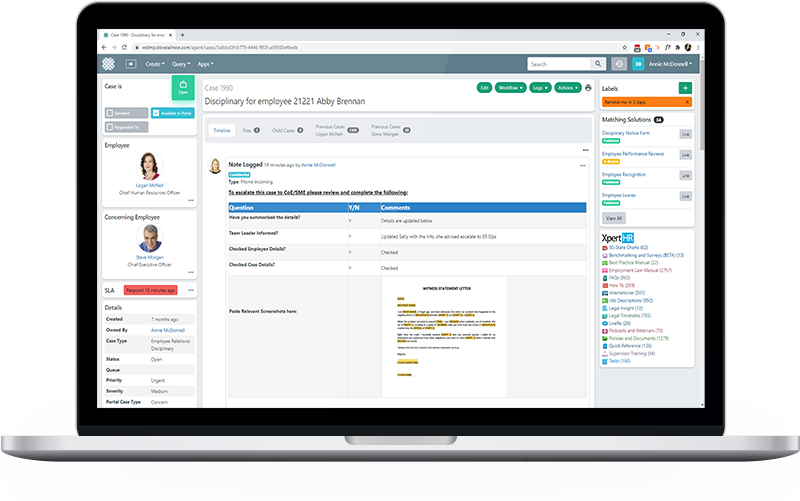 This blog post discusses the benefits of using Employee Relations Management software for tracking and managing labor and employee relations issues. ER software provides features such as case tracking and management, collaboration tools, secure document storage, analytics and reporting, compliance management, and easy integration with existing HR systems. It also reduces the risk of litigation, ensures employee data security, and enables remote work.
Find out more about the benefits of Employee Relations Case Management software.


Dovetail Software Celebrates 2nd Consecutive Year as #1 in Sapient Insights HR Systems Survey for HR Service Delivery
Dovetail Software has been named the best HR Service Delivery software for the second year in a row in the Voice of the Customer HR Service Delivery category of the Sapient Insights 2022-2023 HR Systems Survey. The company's HR Case Management and Employee Portal products achieved the highest scores in User Experience and Vendor Satisfaction, according to the survey, which is based on direct feedback from HR Service Delivery software customers. Dovetail's software is designed to provide employees with an optimal experience of HR services while reducing costs and improving HR efficiency.
Dovetail's COO, Kane Frisby, said:
"We are thrilled to be acknowledged as the best in our industry by such a reputable publication. This achievement proves the hard work and innovation of Dovetail employees, and we extend our gratitude to our customers for their feedback and support."