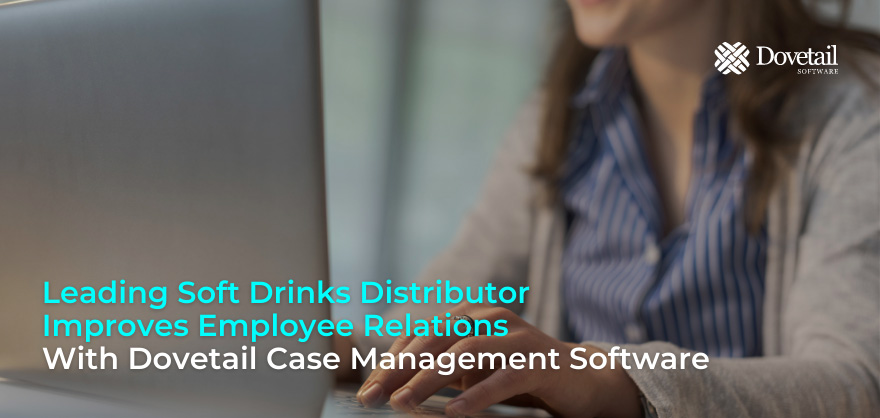 In 2022, a multi-billion dollar soft drinks producer and distributor in the United States, adopted Dovetail ER Case Management for their Employee Relations team's needs. By putting the ER team in control of their case management system, increasing operational efficiency, and improving ER case collaboration, a significant improvement in Employee Relations management has been achieved.
About the Company
With revenues of $2 billion, this soft drinks business produces, sells and distributes beverages in 13 states across the American West. The company's territory includes parts of Arizona, California, Colorado, Idaho, Kansas, Nebraska, Nevada, New Mexico, Oregon, South Dakota, Utah, Washington, and Wyoming and employs more than 7,200 associates.

Background
In August 2021, this leading soft drinks producer and distributor business created a new Employee Relations function to improve the management of employee relations issues that had, until that time, been managed by HR and other departments.

The new team grew to five Employee Relations Partners, a Leave & Accommodation Partner and an Employee Relations Manager who reports to the Director, HR Compliance, Employee Services, and Employee Relations. The ER team is part of a 45 employee HR function. Key points about ER include:

Case types - The top three case types the team manage are 1) Investigations, 2) Corrective Actions and 3) Consultations.
Highest priority case types - Harassment and Discrimination cases, and Time & Attendance cases (the most repetitive case type) are given the highest priority.
Mix of union and non-union employees - There are union and non-union employees (unionized in two of the 13 states). Roles range from corporate, warehouse and drivers to merchandisers and production staff.
Union contracts - Union employees have 9 different types of contracts and have to be managed differently during an employee relations case. For example, an employee relations case from a unionized employee must be resolved within 10 - 15 days (depending on the contract type).


Challenges
Prior to implementing Dovetail, there were a number of challenges the new Employee Relations team were facing:
1. Lack of Documentation and Case Management Capabilities Such as Case Tracking
"There was practically no documentation of cases, no transparency, or tracking of cases. When you're a large multi-state organization, with thousands of employees and high leader turnover, and you don't have cases documented or any continuity of information whatsoever, it's a problem."

Leave & Accommodation Partner, Soft Drinks Distributor
2. Microsoft Teams and Outlook Not the Right Tech for Effective ER Case Management
Like many organizations that have not adopted specialist ER case management software, the Employee Relations team were getting by with desktop software products they already had, including Microsoft Teams and Outlook to manage cases.
As a result, managing ER cases was time consuming, cumbersome and case collaboration was difficult.
3. No Visibility on Workload

With case data in multiple locations, on different devices and across remote locations, case management was difficult and visibility of work was very limited.


Solution
To deal with the challenges, the Director of HR Compliance, Employee Services, and Employee Relations decided to find a case management solution.
The Employee Relations Manager was tasked with finding the software that fit the organization's ER needs. She and her ER team, including the Leave & Accommodation Partner, turned first to the IT department, which has its own ticketing case management system. However, after assessing this tool, it was clear that it was not going to work for ER needs. The Leave & Accommodation Partner said:
"The problem was that it was designed for IT, and not HR. HR lives in a 'world of gray', while IT lives in a very black and white world which meant that the IT ticketing system wasn't configurable or flexible enough, and therefore did not fit our needs."
The ER team needed to look elsewhere for a solution. It took a quick Google Search to find the Dovetail website and submit a demo request form. They also checked out two other providers, however these case management providers were not able to meet the Employee Relations' teams' configuration requirements.
"Honestly, Dovetail's configuration capabilities are great. It was clear to me that the system had been designed by people who knew that Employee Relations and HR staff work in an ambiguous, 'gray world'. In ER it's difficult to say 'when this happens, that happens' every time. It's not that black and white. I love that the ER team has control of the Dovetail system. That is, we can adjust and configure the system to our needs. We were having to submit a ticket and then wait for months and months for a resolution, all the while going back and forth with IT support. It was painful to make a change unlike Dovetail where we have the power to make changes by ourselves."
The company adopted Dovetail Case Management with its wide range of capabilities that help Employee Relations teams manage their ER case workload. These include:
HR Console
Case Creation
Instant Knowledge Search
Case Tracking & Escalation
Emails & Notes
Templates
Audit Timeline
SLA
Workflow Automation
HCM Data View
Attachments
Out of Box Reports
Discussing her favorite features, the Leave & Accommodation Partner said:
"I love the new hide feature in the case notes as accidents happen all the time. Seeing previous cases for employees is also great. I use that every single day. But emailing within the case is my favorite feature of all time. This is because before having Dovetail I had to print each email as a PDF and then upload it to the case file that I had created in Teams. This added quite a bit of time to working my cases. Now I can efficiently send an email from Dovetail and any replies are automatically tracked, making properly documenting cases a breeze with no extra work."


Implementation
Implementing Dovetail was straightforward. The Leave & Administration Partner said:
"Dovetail's Implementation Manager really laid the groundwork and really defined how the system works. I think me and the Implementation Manager's brains work the same way. I like to understand how everything works to understand how to manage the system correctly. So the Dovetail Implementation worked really well for me."

Ceridian Integration
As a specialist provider of case management technology for 20 years, Dovetail has always had the expertise to integrate its software with HCM software.
The business needed an integration with their Ceridian Dayforce HCM system which Dovetail was able to provide. Commenting on this, the Leave & Accommodation Partner said:
"Working with Dovetail to integrate the case management system with Ceridian was easy. In fact, Dovetail did everything spot on and I'm excited that Dovetail has now partnered with Ceridian."

Results
Since going live, 2,661 employee relations cases have been created in the Dovetail Case Management system, each one benefiting from the following (all quotes below from the Leave & Accommodation Partner):
1. Employee Relations in Control of the Case Management System
"It's so easy now to go into Dovetail and make those little tweaks, without having to wait weeks or months for IT requests to be resolved."

2. Improved ER Efficiency
"Dovetail was an instant game changer. I was using Microsoft Teams which meant every time I got an email on an employee's leave I had to download it as a PDF. I then had to upload it into Microsoft Teams, but then months later I would receive a response and I'm doing it again - uploading it to Teams, printing it as a PDF, saving it, uploading it to Teams. It took a huge portion of my day just to have all the documentation. When I went to Dovetail I could do everything within the system and not have to worry about documenting my cases afterwards, I was absolutely enthralled."


3. Employee Relations Team Now Able to Collaborate Effectively
"In HR you have that peace of mind that you can be on vacation and know that everything about a case is in the same location, accessible by colleagues who can manage the case while you're out of the office. This collaborative management wasn't possible prior to having Dovetail, when we were using Microsoft teams."

4. Optimized Case Management Resource Allocation
The implementation of Dovetail HR Case Management helped clarify the amount of work being done by the Employee Relations team, providing concrete data to demonstrate the actual workload and the need for additional support.
"Our Employee Relations team has had almost 2,661 cases since we went live at the end of June 2022. We now have the visibility to say I have this many cases versus before Dovetail when this information was buried in emails or maybe even deleted. There was no quick glance to see current and past workload. Now that we do have this visibility, it has influenced our request for staffing. So in this budget year we requested a staff increase based on this new transparent data. We were able to sat our team received 1,400 cases among 7 people in 4 months. That's a lot, when you're talking about investigations - they're very time consuming. Therefore, Dovetail helped us demonstrate that we're not resourced correctly for the actual workload."

5. Data & Reporting
"We have used the data and reporting from our case count to request an additional headcount to our team. We have also used the data internally to identify comparable situations in divisions to ensure decisions are consistent and equitable. In addition, we can review the data on cases by location to identify which areas may need additional support or training depending on what the trended case types are."
The Future of Case Management for This Dovetail Customer
All of the teams under the Director of HR Compliance, Employee Services, and Employee Relations, including Payroll, Labor Relations (which manages the Union relationships), and HR Services, will be moving their operations to Dovetail's Case Management system.
With more teams using Dovetail, the Leave & Accommodation Partner will be able to assign (and automate) queries to the relevant team, making case handling even more efficient.


Conclusion
In August 2021, senior management at a multi-billion dollar soft drinks distributor made the decision to focus on their Employee Relations function. This not only entailed hiring a whole new Employee Relations team with the right expertise, but also triggered a need for the right technology to support the team in managing employee relations cases. In June 2022, the company launched Dovetail Case Management software that offered all the features necessary to track, manage, collaborate and report on ER cases. Now visibility, transparency and full audit trails of employee relations cases are possible, resulting in an improved service for employees and a reduction in litigation risk to the company. Speaking of the success of Dovetail's software, the company's Leave & Accommodation Partner said:
"Dovetail is built by people who understand HR and the product has been beautifully designed with that understanding. The software is customizable to allow for the famous HR "it depends" situations. Ultimately, Dovetail's system has helped us achieve our Employee Relations objectives."