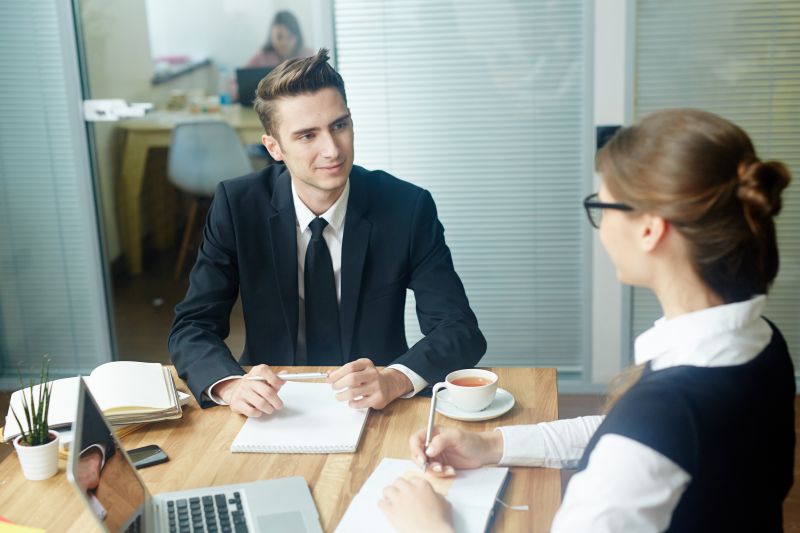 Discover the Benefits of Employee Relations Case Management Software for Your Organization
Employee relations case management software also referred to as labor relations or HR Case Management software (and even as an employee relations tracking system), is a digital HR tool that helps Employee Relations teams investigate, manage and track employee and labor relations issues.

If you're looking to improve employee relations at your organization (particularly as the pandemic has resulted in greater employee relations management complexity), Employee Relations case management is worth checking out, as it will provide you with a number of benefits.
From establishing trust-based relationships with employees to tracking employee investigations, a system like Dovetail's Employee Relations case management has you covered. With it, your team can improve employee-employer relationships, offer better service levels, increase transparency, and create a positive workplace environment.

This is because an Employee Relations case management system has the technical features your HR and Investigator teams need to manage cases effectively. They include automatic investigations and task assignments, centralized digital documentation, and Employee Relations case search - which makes it quick and easy for you to find case data and documentation. (Discover more features in our blog post, Employee Relations Tracking System for Your Organization).

All these features provide your organization with value-adding benefits. Read on to find out more.
1. Keep Your Employee Relations Investigations and Case Data Organized and Accessible
Dovetail's Employee Relations case management features give you the ability to create and assign cases quickly and store this information in a central database that can be accessed from any "permissioned" location. With these capabilities, you can systematically manage, track, and monitor the entire employee relations process. Click the button below to discover these features of Dovetail's Employee Relations software today.



2. Avoid Costly and Time-Consuming Workplace Litigation
Dovetail's Employee Relations Case Management system helps Human Resources by providing a safe and secure data repository for all employee cases and associated information and documents. The Employee Communications Portal ensures employees are fully informed of all HR policies (and other HR communications), helping to reduce employment litigation due to an employee claiming a lack of information.

3. Help Investigators Stick to Deadlines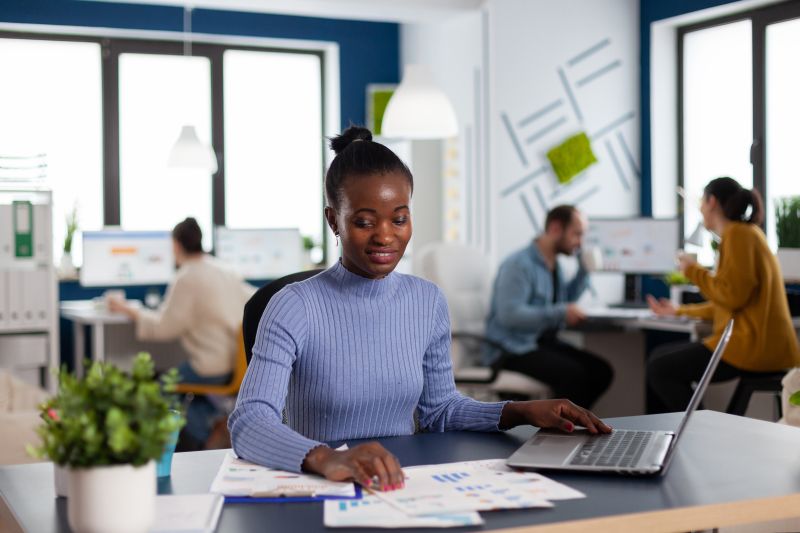 Dovetail's Employee Relations Case Management software notification feature is designed to make your life easier. With handy features like reminder alerts and popups, you'll never miss a task deadline. The case handler has the ability to control the frequency of notifications, as well as other technical features to manage notification-related activities. This allows the case handler to keep things running smoothly and efficiently. Furthermore, there is Service Level Agreement (SLA) functionality that can be configured to ensure the highest level of service is delivered when managing employee relations cases.

4. Keep Employee Relations Documentation Organized and Safe in a Centralized System
Dovetail Employee Relations case management software provides HR professionals with a way to store and organize employee communications, documentation and files in a central database. This allows for quick and easy access to important information during a misconduct case or other employment situation. Having this information readily available can help a company take appropriate action and defend itself against any potential claims. The database is only accessible to those with the appropriate permissions, ensuring that sensitive information is kept safe and secure.



5. Design and Implement Effective and Transparent Employee Communications
At Dovetail, we believe that effective communication is key to maintaining strong employee relations. In every Employee Relations case, it's important that responses to employee issues are structured, consistent and transparent. Furthermore, employees should be regularly informed and educated on company policies, including those related to equal employment opportunities, anti-retaliation, and anti-discriminatory practices. Our Employee Portal ensures that employees are kept informed of company policies and procedures, helping to avoid any potential litigation resulting from a lack of understanding.

6. Enable Investigators to Collaborate and Work Remotely, Anytime, Anywhere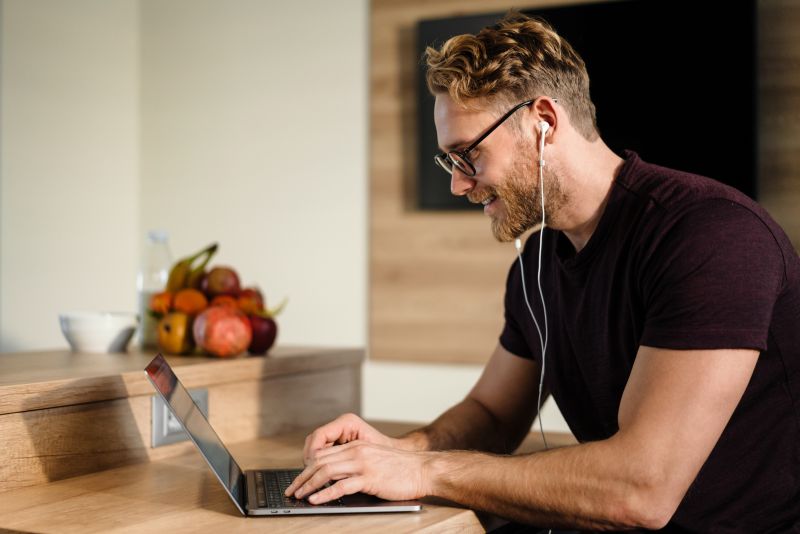 In a pandemic, the Employee Relations function must adapt to the new reality of remote work. This means having the right technology in place to allow Investigators to collaborate effectively from any location.

Dovetail's collaboration features such as Team Queues, Child Cases, and Workflow Automation, help Investigators and HR teams work together more efficiently, so they can resolve cases faster and more effectively. This saves your HR team from having to email colleagues or go from office to office to speak to each other (with the associated risk of spreading COVID), every time they need to collaborate on a case.

7. Get Ahead with Insights from Advanced Reporting & Analytics
Dovetail's Employee Relations case management real-time Smart Dashboards let you get to the bottom of your organization's culture, policy, and leadership issues. You can dive deep into the data, analyzing it by employee, demography, issue type, and other variables. And with advanced search capabilities, you can uncover trends in employee behavior and learn how to manage recurring issues more effectively. Plus, customized ER reports can help you keep tabs on employee issues like complaints and grievances. To find out more, click the button below for a demo.



8. Secure Employee Relations Data & Keep It Confidential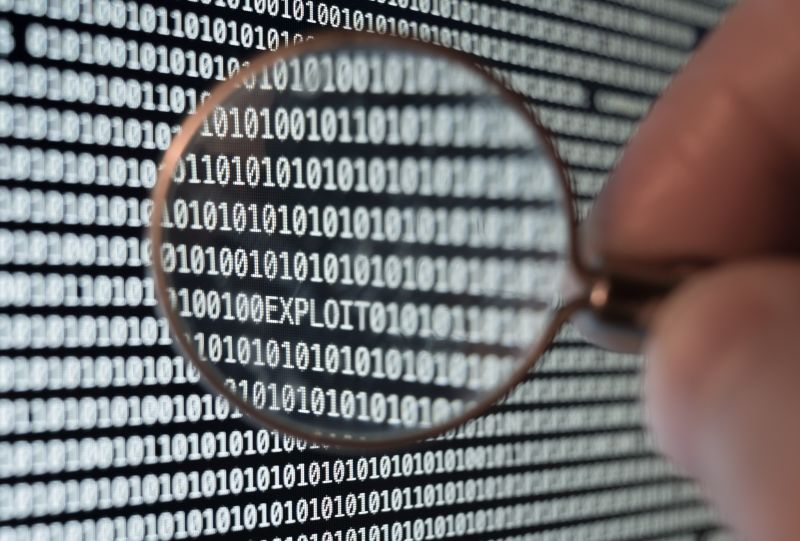 The safety and security of your employees' personal data are crucial, especially in the event of a grievance case. Sensitive data could include the names of the accused, a description of the allegation, and a summary of evidence that confirms or denies an allegation. Keep your employees' data safe and secure with Dovetail ER's Data Security & Permissions features. Request a demo below to learn more.

9. Integrate Employee Relations Data With Your HR Systems
Dovetail's ER Case Management software makes it easy to connect to your existing HR systems. The HCM Connector lets your HRIS technology seamlessly connect with Dovetail's software, so you don't have to re-enter data that already exists in your HR system.
10. Options for Handling a Workplace Harassment Case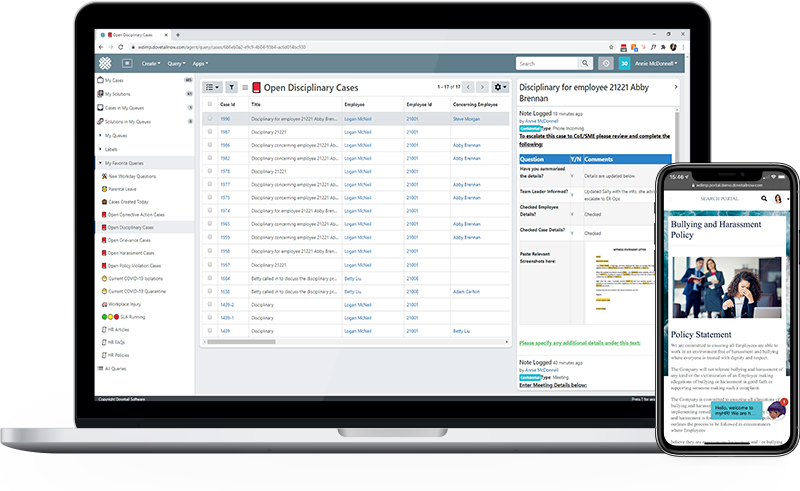 Dovetail's Employee Relations software gives you a lot of options for configuring how you want to handle harassment cases. You can map out notifications, approvals, or Service Level Agreements (SLAs) to create a process that fits your needs. This way, you can have a different process for a minor dress code violation vs. a sexual harassment claim.
11. Get Upgrades Without the Headache With Cloud-based, SaaS Software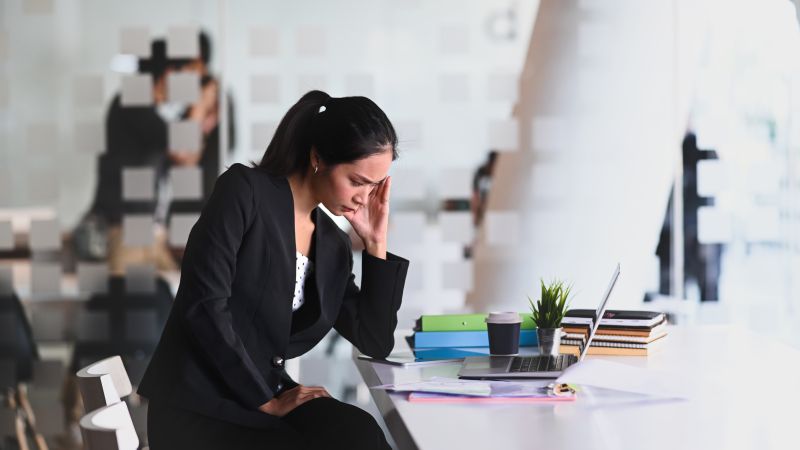 Dovetail's Cloud-based, SaaS-enabled Employee Relations case management system ensures that you always have the latest ER capabilities at your disposal, as the software is updated on a quarterly basis.

In contrast to on-premise Employee Relations software, which requires long and tedious IT upgrade projects, upgrading to the latest version of Dovetail's SaaS Employee Relations system is quick and easy - so you can get back to business as usual ASAP.

As part of Dovetail's Innovation program, you will have access to our product Roadmap, so you will always be aware of the direction our technology is taking.

If you're interested in learning more about how Dovetail Employee Relations case management software can improve employee relations at your organization, please contact us. We'd love to hear from you!
And if you enjoyed this article, you may like to take a look at our Employee Relations software product page.