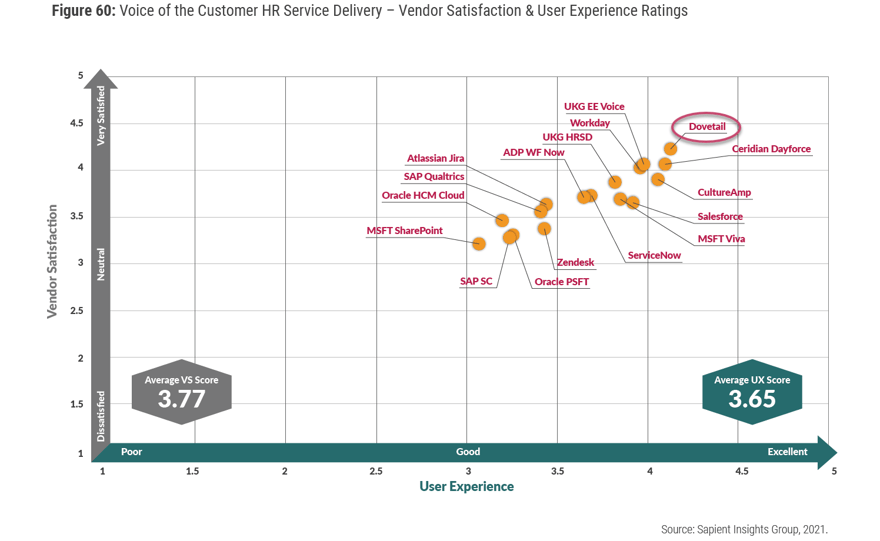 Earlier this week Dovetail was ranked #1 for HR Service Delivery by the 24th annual edition of the Sapient Insights 2021-2022 HR Systems Survey.
The HR Systems Survey from Sapient Insights Group, is an annual comprehensive research report on the current and future state of HR systems and strategy.
This innovative research effort, led by Stacey Harris, Chief Research Officer at Sapient Insights Research Group, focuses on high-impact HR organizations, enterprise HR technology, and key practices across the talent management spectrum. The HR Systems Survey was conducted between May 2021 and July 2021, covering over 2,100 unique organizations across 52 countries representing a total workforce of 33 million employees and contingent worker ; 35% of the surveyed organizations had a global presence. HR Professionals anonymously assess strategy, outcomes, user experience, vendor satisfaction, vendor successes, and gaps within their current HR Technology Solutions and strategies.
Key Themes throughout the HR Systems Survey:
Business of HR Systems in 2021
Impact on the implementation of an HR System Strategy on Business Outcomes
Voice of the Customer Section: Practitioners' input on their current systems and future state of HR System solutions and applications
Achieving Change with HR Systems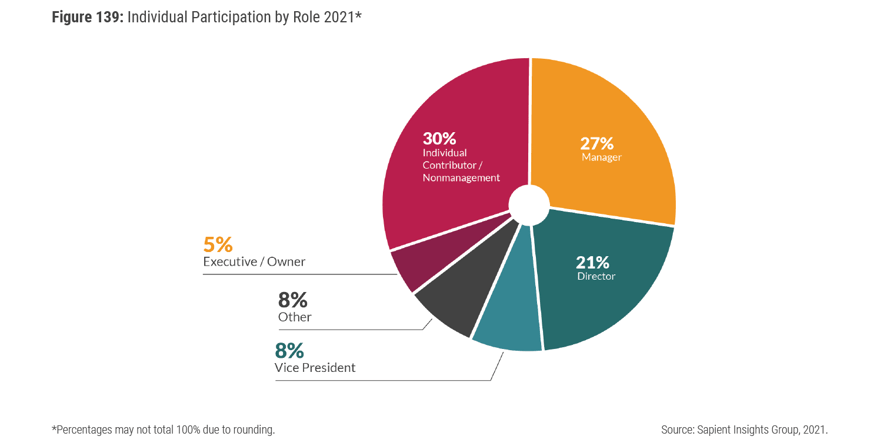 The survey uses an HR Systems Adoption Blueprint that is arranged around 6 primary categories of enterprise HR systems applications:
Core HR management
Service delivery
Time management
Analytics and planning
Emerging technology
Talent management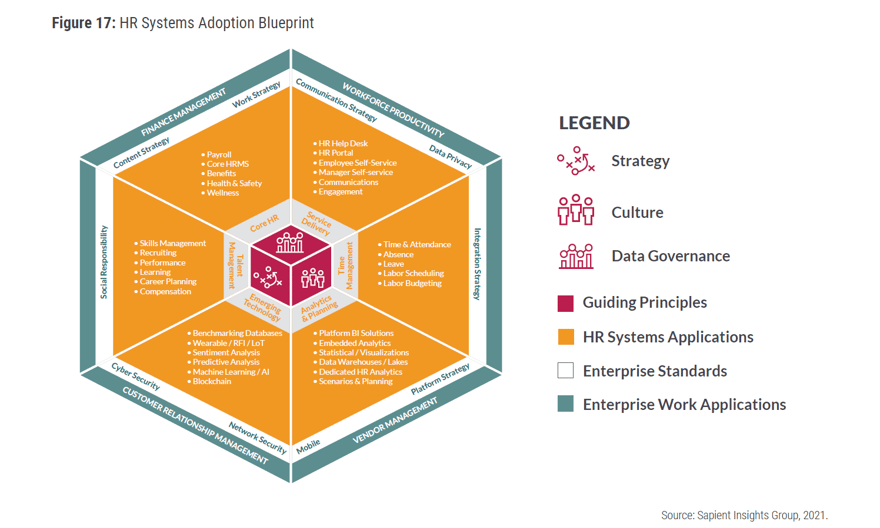 Within each section there is a summary of the applications/ modules typically found in that area, along with a list of vendors offering those applications. Below you can see typical applications found within HR Service Delivery technology.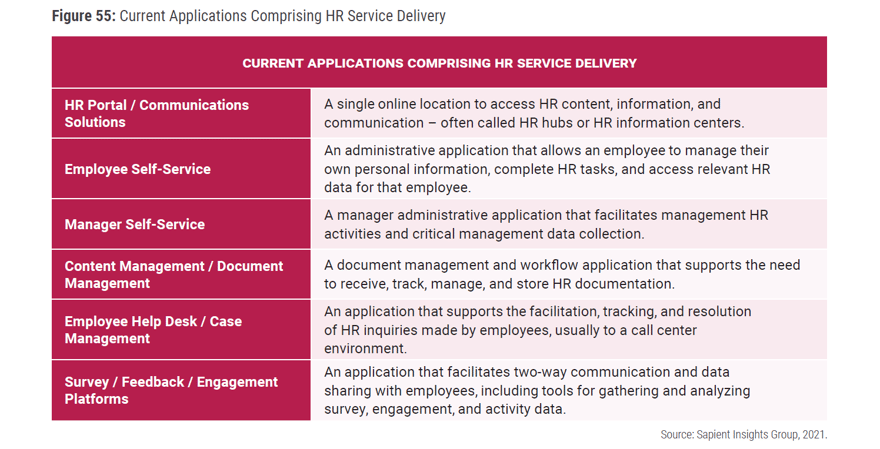 The section then focuses on the voice of the customer. Survey participants were asked to rate their vendor in relation to their user experience and vendor satisfaction.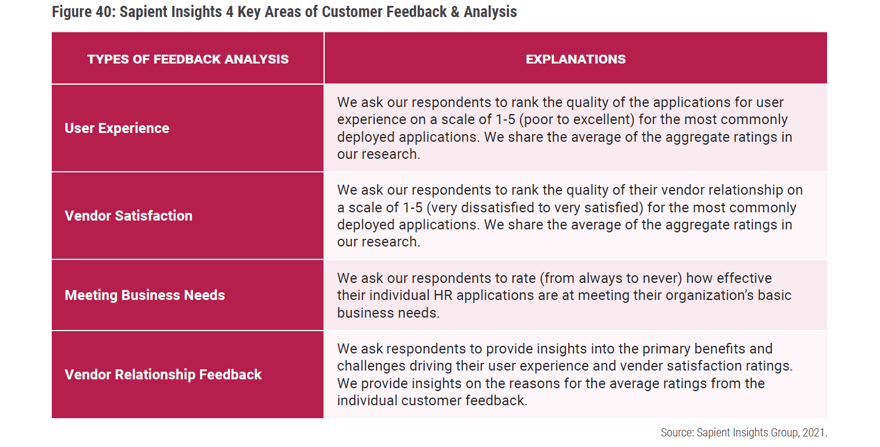 The results of the User Experience and Vendor Satisfaction are presented within a performance box layout, showcasing the vendors that were rated the highest within their category.
And, the results are clear!
Dovetail leads the HR Service Delivery technology space, ranking #1 for User Experience and #1 for Vendor Satisfaction: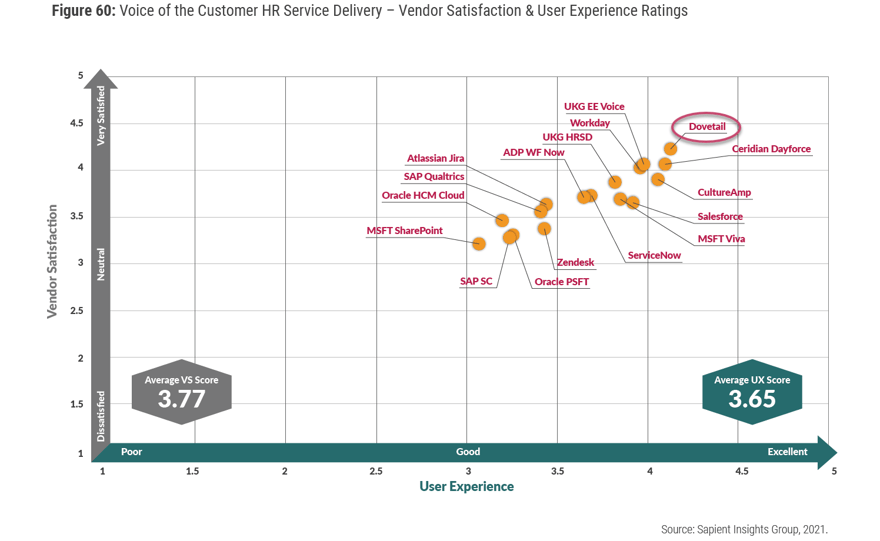 "Dovetail experienced considerably increased ratings last year, most likely due to substantial investments in its user experience and analytics capabilities in 2019. Under the expanded definition, Dovetail receives the highest average ratings for both VS and UX this year, followed by Ceridian Dayforce, UKG Employee Voice, Workday, and CultureAmp to round out the top 5 in both VS and UX categories (see Figures 61 and 62)."
Source : Sapient Insights 2021–2022 HR Systems Survey Research, 24th Annual Edition, Sapient Insights Group / Stacey Harris, Sheryl Herle & Kimberly Fletcher, 2021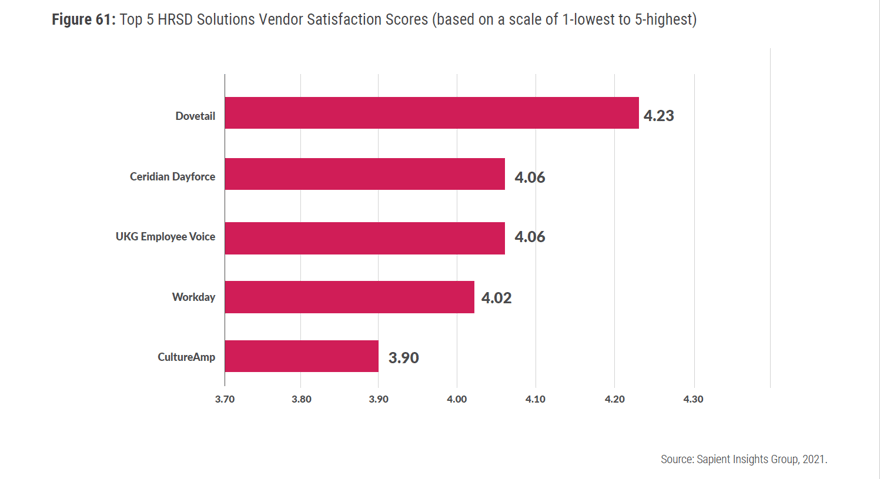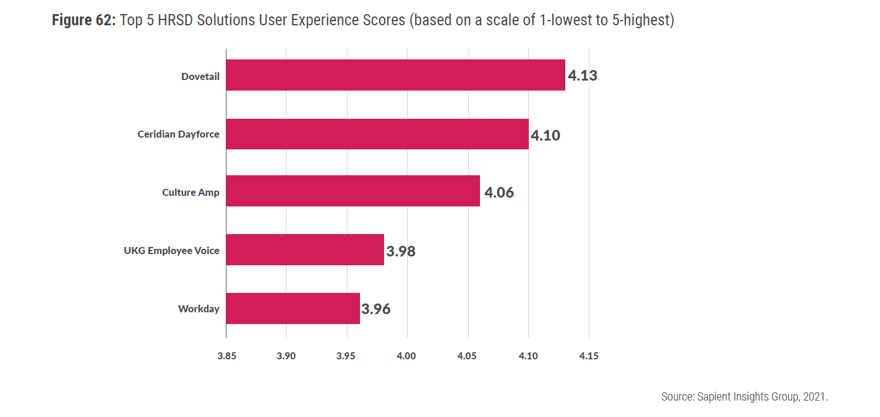 We feel honored to see these results. We have the best customers in the world who rely on Dovetail to provide a first class employee experience to their workforce 365 days a year. Our mission has always been to delight our customers, and now our customers have delighted us!
Contact us today to see why HR Practitioners have voted Dovetail the #1 HR Service Delivery Application and Vendor for 2021-2022; we would love to talk with you and discuss how your employees and HR team can experience Dovetail.