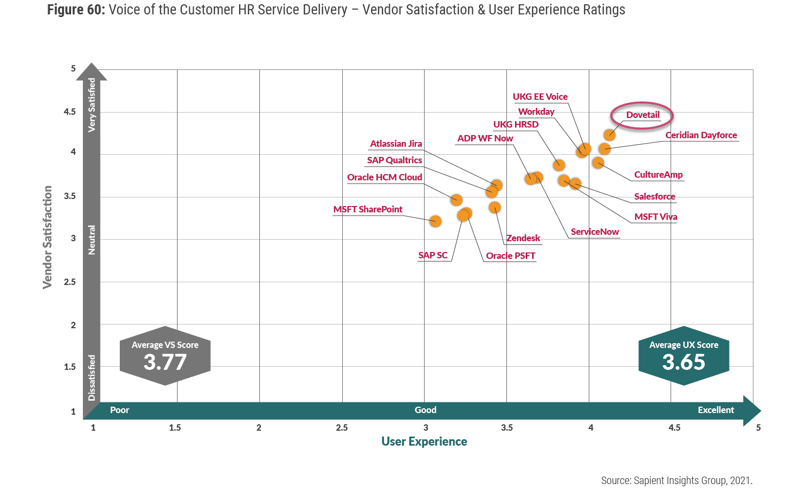 Dovetail Software Ranked #1 for HR Service Delivery Applications
- Get Your Free Complimentary Copy of the Sapient Insights 2021-2022 HR Systems Survey Research, 24th Annual Edition, Today!
(Currently retailing at $99)
In the key measures of quality of HR Service Delivery applications; Vendor Satisfaction (VS) and User Experience (UX), Dovetail Software ranked #1, outperforming all other HR vendors in the latest Sapient survey; the 2021-2022 Annual HR Systems Survey Research (24th Edition). It shows that Dovetail customers are very satisfied with the quality of their relationship with us and are finding the user experience of our applications, including HR Case Management, Employee Portal, HR Knowledge Management and HR Reporting & Analytics, to be the best in the marketplace. With scores of 4.23 (VS) and 4.13 (UX), Dovetail is significantly above the average VS and UX scores of 3.77 and 3.65 respectively. Furthermore, 100% of customer responses said our applications met their needs most of the time.
The report highlighted Dovetail's performance, stating:
"Dovetail experienced considerably increased ratings last year, most likely due to substantial investments in its user experience and analytics capabilities in 2019. Under the expanded definition, Dovetail receives the highest average ratings for both VS and UX this year."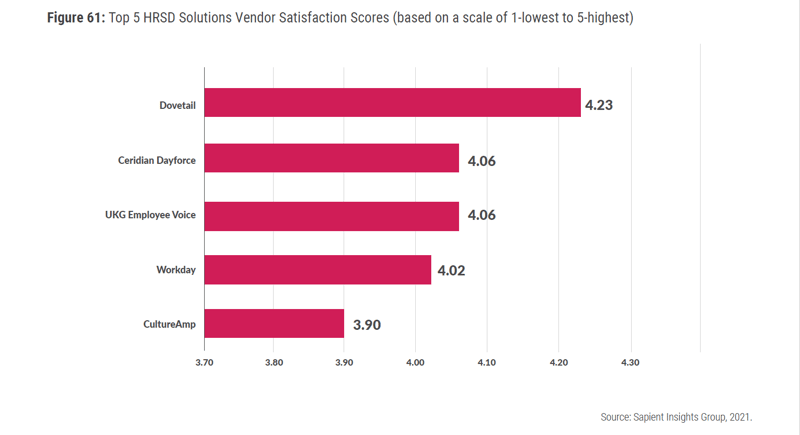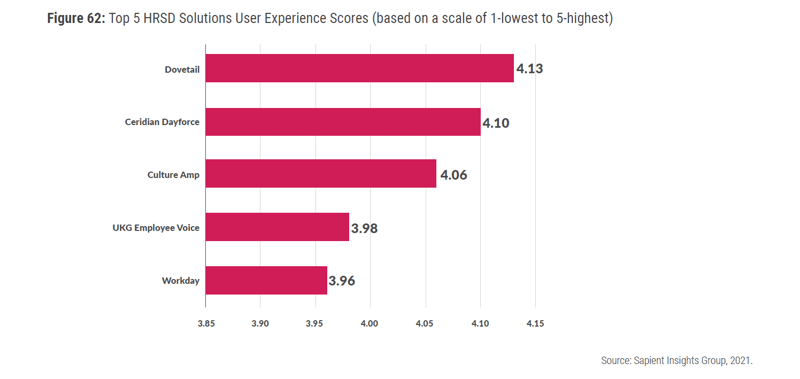 Containing nearly 200 pages and 150 figures of the latest industry data and insights covering all of HR technology for consumers, HR and business leaders, end-users, and solution providers, the Sapient survey is one of the most keenly awaited market research reports in the HR technology space. Now in its 24th year, the survey received 4,091 responses from HR professionals of which 2,117 were unique organizations worldwide, representing 33 million employees. Global organizations represent 34% of respondents.
The Dovetail Monthly News Roundup is offering our readers a free, complimentary copy of the report (it is currently retailing at $99). Get yours today!

The full report covers: (1) How HR tech spending is spiking, (2) The top areas for increased spending, (3) How COVID-19 and social movements have been impacting HR tech – customers and vendors, (4) How savvy organizations achieve better business, HR, and talent outcomes, (5) Areas in HR tech that are especially hot right now, (6) How customers feel about their current HR tech, and (7) Which HR tech areas and solution providers receive the best (and not so good) scores. While key themes include: (1) The Business of HR Systems in 2021, (2) HR Systems Adoption Blueprint, (3) Voice of the Customer, (4) Achieving Change with HR Systems, and (5) Methodology & Demographics.
Click here to read excerpts of the report linked to HR Service Delivery and Dovetail's performance.

Interestingly, the report discovered that 27% of organizations are looking to replace their HR Service Delivery applications. If you are one of them, then please do get in contact, as we'd love to show you why Dovetail is outperforming the market for HR Service Delivery applications.

Click here to obtain a free complimentary copy (currently priced at $99) of the Sapient Insights 2021-2022 HR Systems Survey Research, 24th Annual Edition.
In other news...


How HR Pros Can Get Noticed – And Advance Their Careers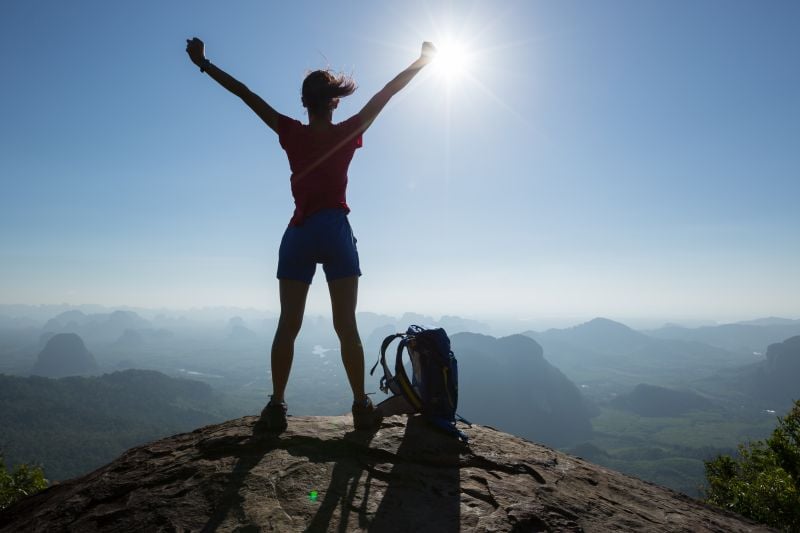 Want to focus on your career? Then read these tips to get ahead: (1) Know your part of the business inside out, (2) Make it clear you're committed to growth and the company, (3) Produce a team that succeeds, and you will too, (4) Train yourself to be a strategic thinker, (5) Challenge conventional thinking, (6) Do your job exceptionally well, and (7) Build communication skills and communicate your ideas, opinions and emotions clearly and thoughtfully. Advance your career, click here to read the full article.


The Great Reboot - EXCLUSIVE PwC Offers U.S. Employees Full-Time Remote Work (Reuters)
Accounting and consulting firm PwC has said it will allow all its 40,000 U.S. client services employees to work virtually and live anywhere they want in perpetuity, making it one of the biggest employers to embrace permanent remote work. However, employees who opt to work virtually full-time from a lower-cost location, would see their pay decrease. Other major accounting firms, such as Deloitte and KPMG, have also been giving employees more choice to work remotely in the face of the COVID-19 pandemic. Click here to find out more.


Four Potential Futures for the Worker-Employer Relationship
Deloitte postulate four potential futures that illustrate how the worker-employer relationship could develop and how organizations and workers might respond. Their report focuses on answering the question: How might the worker-employer relationship evolve to meet the opportunities and challenges of the post–COVID-19 world? Four futures are explored: Work as fashion, War between talent, Work is work, and Purpose unleashed. Click here to read the full report.


How HR Can Boost Morale – Without Being Cheesy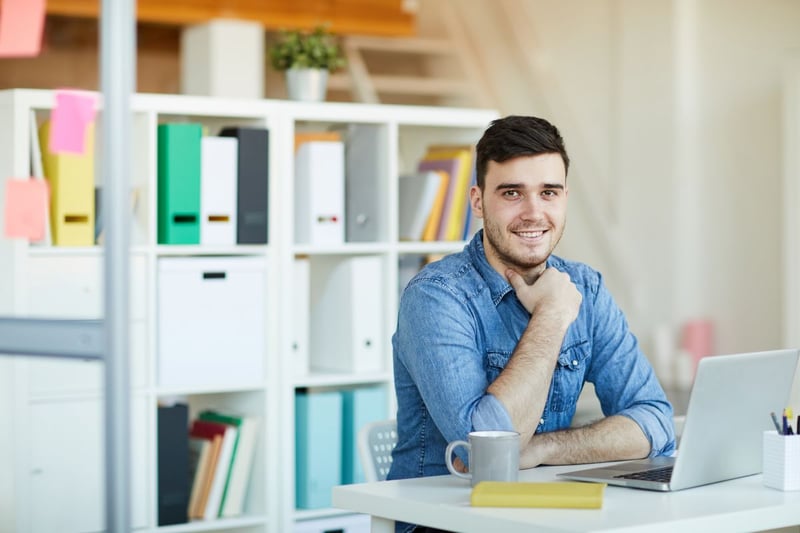 A global study by Gallup found that employee engagement levels have decreased in the past two years and stood at just 20% in 2020. This followed a steady rise over the past decade. That's according to the article "How HR can boost morale – without being cheesy", in HRD magazine, the HR magazine for HR directors.

When employees were asked how they felt about their present life situation, only 32% of them said they were thriving. This means almost two in three employees have been struggling in some way, and were more likely to report daily worry, stress, depression, sadness, or anger. The thriving employees, on the other hand, shared more hope about their current and future lives, and higher energy and interest levels.

The article shows how building trust, giving meaningful praise and recognition, creating a sense of belonging, and providing regular breaks can lead to a boost in employee engagement and morale.


10 HR headlines to Fuel Your Nightmares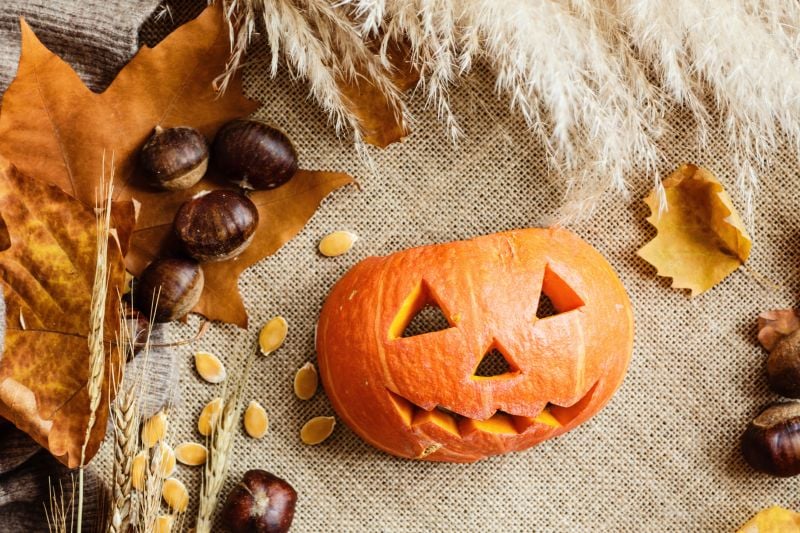 And finally...
To get your blood curdling prior to Halloween, HR Dive, the HR news magazine, revisits 10 of their scariest stories for HR professionals. With most focused on compliance, you'll be sure to get your Halloween horror fix! Maximize your 'fright' by clicking here to read the full ten articles.