Almost 300 Workday Customers and Prospects visited Workday Certified Select Partner Dovetail's exhibition stand at Workday Rising Milan in November 2019.
Visitors had the opportunity to find out more about improving HR Service Delivery with Dovetail's HR Service Delivery technology, which includes HR Case Management, Employee Portal and HR Knowledge Management solutions.
Kane Frisby, Dovetail's Chief Strategy Officer, gave demos to a number of visitors, showcasing key features such as the New User Interface, Instant Knowledge Search, and Workflow Automation. Feedback was very positive with Kane saying "Workday customers and prospects were particularly keen to find out more about how they could improve the HR service delivery experience for their employees.". He added "Dovetail continues to design its solutions around the employee, so it's been very positive to see what we are doing is matching our customers' and prospects requirements".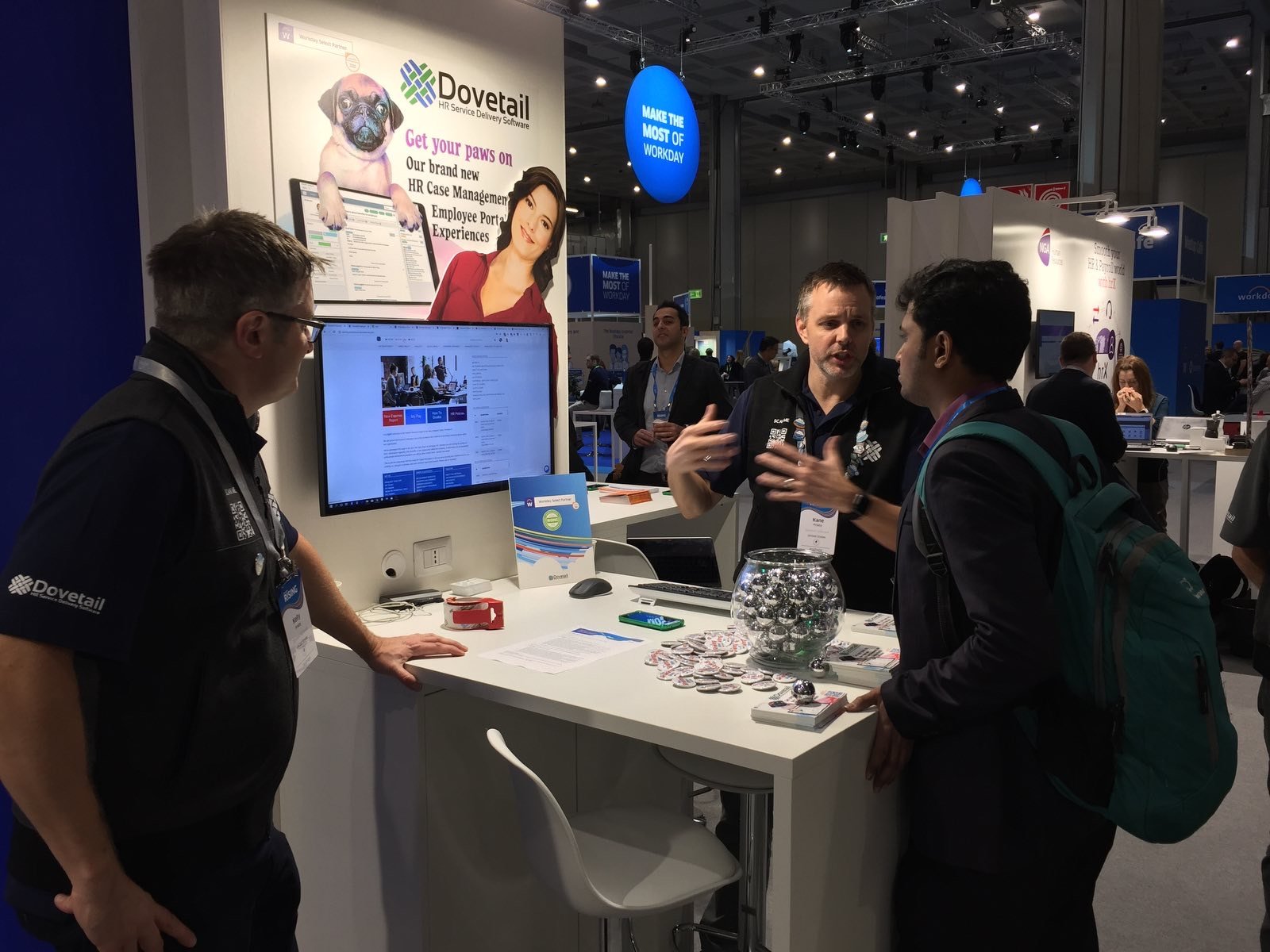 Workday Customers and Prospects could also view the latest Dovetail Workday integration video that explains how to make it easier for your employees and managers to locate help and contact HR when they have questions during transactions within the Workday system. As a Workday Select Partner for 7 years with many of our customers using Workday as their core HCM and Finance solution, Dovetail's expertise in integrating Dovetail's HR Service Delivery technology with Workday is second to none.
"This is still one of the best HR Technology events of the year, even after my 11th Workday Rising show! The right people are in the right room, who understand and are passionate about modern cloud technology, and looking to make a difference within their organization." Kane Frisby - Chief Strategy Officer
Visitors to the Dovetail exhibition stand also had the opportunity to browse Dovetail's new website, which was specifically designed around Dovetail's customer needs, offering engaging content and solutions to customers' pain points. For example, one of our latest blog posts, Top 5 Benefits of Service Level Agreements (SLA) in HR Service Delivery, helps HR Managers understand how to improve employee service management, enhance the employee experience, increase HR productivity, more effectively allocate HR resources and raise HR team morale and performance by implementing Dovetail's HR Case Management SLA feature.
Kane adds, "With a key focus on providing helpful content that answers customers' most pressing questions about HR Service Delivery technology, Dovetail's new website is now a key strategic tool for engaging with our customers and prospects".