Where do you go when you want to share complex technology solutions with Workday professionals? For us at Dovetail, there's only one place and that's Workday Rising, and this year it was in Orlando Florida. That's because if you want to stay ahead of the curve and explore what's possible with HR technology, Workday Rising is the place to be.
This year, at our exhibition stand, Dennis, Wayne, and I were delighted to meet and greet over 200 Workday customers and prospects to talk to them about Dovetail's HR Case Management, HR Knowledge Management and Employee Portal technology.
Workday users were able to gain an understanding of how Dovetail helps enterprise corporations achieve enhanced employee experience, increased levels of employee engagement and higher HR team productivity, among many other benefits of using our software.
It was great for us to hear customer feedback too. Workday users wanted to know how Dovetail integrates with Workday, and I was able to explain to them that, as a Workday Certified Select Partner for over 7 years, we have a huge amount of experience of integrating Dovetail with Workday for our customers. We are always creating educational content for them - our latest Dovetail Workday integration video explains how employees can contact HR with questions during transactions within the Workday system.
Workday customers and prospects also experienced Dovetail's new website, which has been designed around Dovetail's customer needs and pain points. It offers a new, engaging online experience that answers customer questions around HR Service Delivery technology and what we do. A recent blog post What is an Employee Portal? was of particular interest.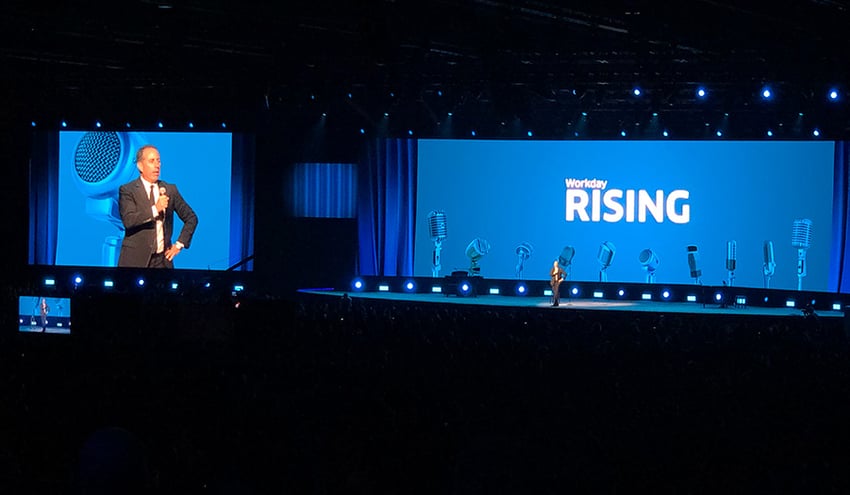 But Workday Rising US is not all work and no play. The social side (as ever) was fantastic, with opportunities to build relationships with colleagues at social events and, of course, Jerry Seinfeld had us in stitches with his astute HR themed comedy routine.
All in all, another successful Workday Rising US. It was my 8th Workday Rising US and I'll be sure to make it my 9th in San Francisco in 2020. We look forward to seeing you there!