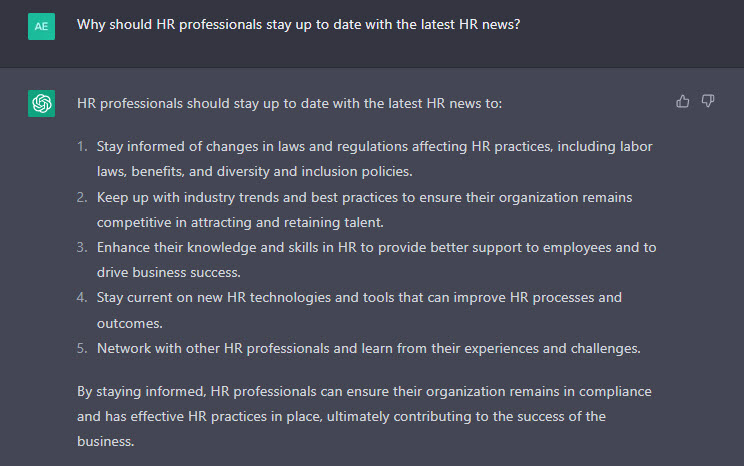 Latest HR News:

Top Issues for HR in 2023, HR Trends, HR Services, ChatGpt3 for HR.

Read the latest Dovetail Monthly News Roundup to get the best and most relevant news for HR Professionals.

Top Issues for HR in 2023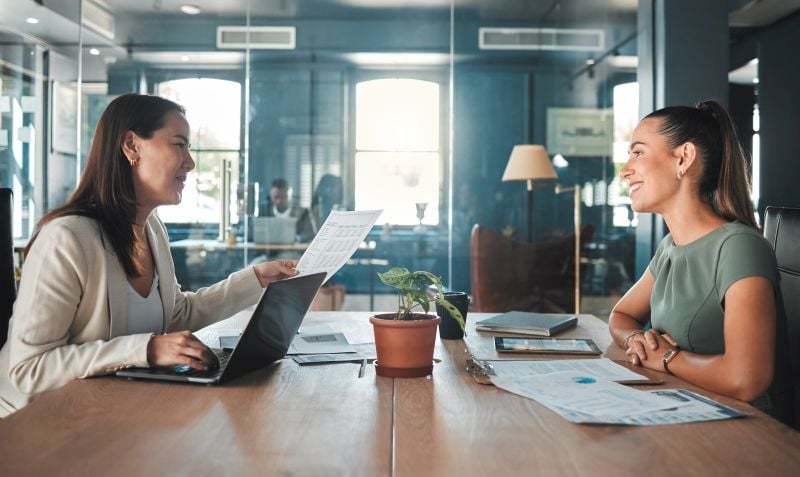 Report: Inflation, Labor Shortages Top HR Concerns in 2023
Finding and keeping quality employees will be key for employers in 2023, according to the Society for Human Resource Management's (SHRM) 2022-2023 State of the Workplace report. The report found that inflation and labor shortages were the top external challenges faced by US organizations in 2022, and the need to offer competitive pay while managing budgets will be a challenge. HR professionals and executives feel less recognized by senior leaders, while non-HR employees remain very disengaged and are more likely to look for new jobs.
HR professionals and HR executives stated that the most pressing matters regarding filling positions were:
a scarcity of eligible applicants
inadequate compensation
limited workplace flexibility
and employee engagement.
The report highlighted that non-HR workers stayed highly apathetic going into 2023 and were "significantly less likely to propose their company as a sound workplace or to trust their employer to deal with them fairly" compared to 2021. Over a quarter (26 percent) were actively searching for a job elsewhere.
Click here to find out more.

Read our Ultimate Guide to Employee Experience Technology to find out how to use the latest software to improve the employee's experience of work.
HR is Facing an Employee Data Dilemma
Employers often tout their employees as their greatest asset, but according to this article the reality is that they often don't know the most about them. This lack of knowledge has resulted in an increase in employee turnover and has caused employers to work hard to find replacements. When HR teams are missing data on their employees or have data spread out across multiple systems, it makes it difficult to make decisions or take action. To ensure success, HR teams need to prioritize data-driven methods and organize their data to gain insight into the issues they face, such as workplace toxicity and misalignment between roles and their descriptions. This will allow them to take proactive measures to improve employee retention and create a better workplace.

Deloitte 2023 Global Human Capital Trends
According to Deloitte, for the past century, our understanding of work has been based on a mechanistic model. This has resulted in a focus on cost and productivity, with workers organized into fixed and repeatable tasks, and grouped into clearly defined jobs. But today, the boundaries that provided order and structure to work are being challenged as organizations and workers struggle with more disruption than ever before. By viewing each decision as an experiment, cocreating a new relationship with workers, and prioritizing human outcomes, organizations and workers can capitalize on the innovation and improved results that come with a boundaryless world.
Organizations need to develop new levels of leadership capability to successfully mobilize their employees and teams to accomplish their goals. However, according to the Deloitte 2023 Global Human Capital Trends survey:
Only 23% of organizations say their leaders have the right expertise to handle disruption
Less than 15% of organizations feel confident that their leaders can manage an increasingly diverse workforce
Less than 18% are positive that their leaders understand how to create a suitable workplace for their business
Leaders must learn to use technology to streamline work outcomes, be able to make decisions that take into account societal and environmental risks, and find new ways to interact with their workers. Deloitte's survey polled 10,000 business and HR leaders from 105 countries and their findings formed the basis of this report.
HR Services


How Can HR Service Management Companies Transform Your HR Department?
According to this article in the California Business Journal, organizations of all sizes are placing a greater emphasis on streamlining their HR processes to ensure they are running efficiently. HR service transformation can help organizations:
Reduce costs
Improve employee engagement and productivity
Increase customer satisfaction
Automate HR processes
Streamlined data management
Improve compliance and security
By transforming their HR services, organizations can ensure their employees can work more efficiently and effectively while also providing them with the tools they need to be successful in their job roles.
If you'd like to get a better understanding of the power of HR Services technology, then feel free to contact us for information and resources or why not try a demo.


ChatGPT3 for HR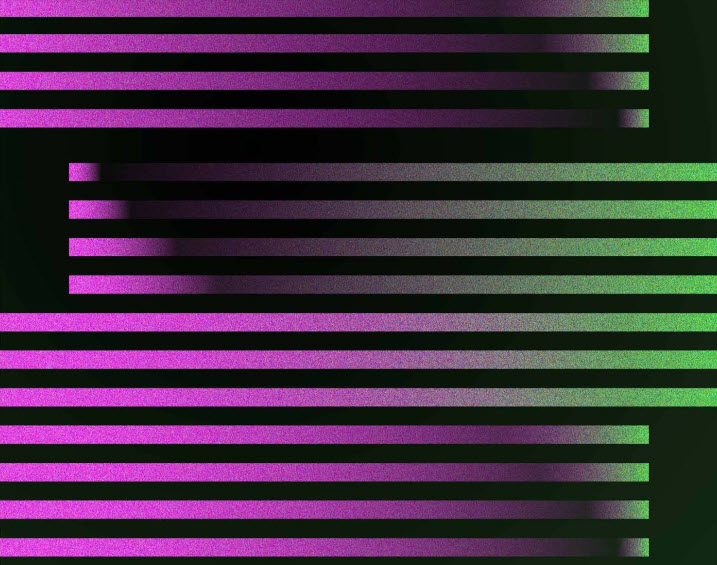 ChatGPT: 'Bigger than anything' HR has ever seen?
HR managers have been gradually getting used to the increasing use of AI for tasks such as evaluating job applicants or developing chatbots. ChatGPT is an AI search tool that can answer complex questions with instant, human-like responses. It is seen by some as a revolutionary technology that has the potential to drastically change the workplace, reducing the need for mundane writing or data tasks and allowing HR departments to focus on more strategic tasks. Early adopters of the technology are predicting that it will create new job titles such as AI prompting, AI compliance, and AI ethics. As more companies start to use ChatGPT, HR professionals must quickly learn what it can do and what it cannot do in order to stay ahead of their C-suite.
According to this article, a team should be designated to become immersed in understanding the technology. This will be important because new AI tools are being developed everyday. Companies should also consider developing live testing and assessments to accurately gauge the cognitive skills of applicants, and a new set of skills will be necessary, such as the ability to ask the right questions and refine the answer to fit company needs, known as narration.
Learn more about ChatGPT and its impact on HR.


ChatGPT 101 for HR Pros
According to SHRM, the introduction of AI technology such as ChatGPT is likely to have a significant impact on the field of Human Resources (HR). While it is likely to reduce the need for manual labor in terms of creating documents, writing policies, and performing basic tasks, it is important to note that HR professionals will still be needed to interpret, advise, and narrate to ChatGPT what they want to create. With the help of such technology, HR professionals can focus more on the strategic aspects of their role. For example, they can focus on developing recruiting strategies, creating policies that are compliant with changing laws, and analyzing data to measure performance. The Society for Human Resource Management (SHRM) advocates for the ethical use of AI and stresses the importance of HR professionals in creating, managing, and monitoring AI processes. As such, it is important for HR professionals to stay informed about the latest advancements in AI technology so that they can effectively use it in their roles.
Read this 101 to find out what SHRM has to say about the use of AI in HR.


Everything HR Needs to Know About ChatGPT
While many people are using ChatGPT for fun, others are experimenting with how to use it in their working lives. HR teams are one such group that could benefit from using ChatGPT, as it can speed up research and content creation processes. Examples include:
Writing job descriptions
Producing generic content about careers on company websites or social media
Creating training plans
However, HR teams must be aware of the potential risks of using ChatGPT, such as incorrect information and potential misuse of personal data. It is therefore important for HR teams to be aware of the potential benefits and risks of using this new AI technology, and to use it in a way that is in line with the organization's regulations and policies.
Stay ahead and discover what you need to know about ChatGPT today.


9 HR Jobs ChatGPT Says It Can Do
The nine jobs discussed in this article demonstrate the ways in which ChatGPT can help in recruiting and hiring, employee onboarding, employee engagement, performance evaluation, training and development, compliance and policy, HR data management, employee assistance, and diversity and inclusion. The article emphasizes that, while the technology can be useful, it is important to remember that humans must remain in the equation. The relationship building, empathy, and support that come with human interaction are still essential to an effective HR department.

Find out more.


ChatGPT's Take on HR Technology: Transforming the Way We Manage People
We asked ChatGpt3 to write about HR technology and this is what it said:
"Technology has revolutionized the way Human Resources (HR) functions in organizations. By automating manual and repetitive processes, HR technology has enabled HR professionals to focus on more strategic, value-adding tasks. Additionally, technology has improved the way organizations source, attract, and hire talent by utilizing applicant tracking systems, job boards, and social media platforms. Furthermore, it has allowed organizations to create a more engaging and satisfying work environment by providing employees with self-service portals and mobile apps. Lastly, HR technology has made it easier for organizations to comply with employment regulations and manage employee data securely.

Overall, technology has transformed the way we manage people, making HR functions more efficient and effective. It is essential for organizations to keep up-to-date with the latest HR technology in order to stay ahead of the curve."
Discover more about what OpenAI's ChatGpt3 has to say about HR technology and transformation.