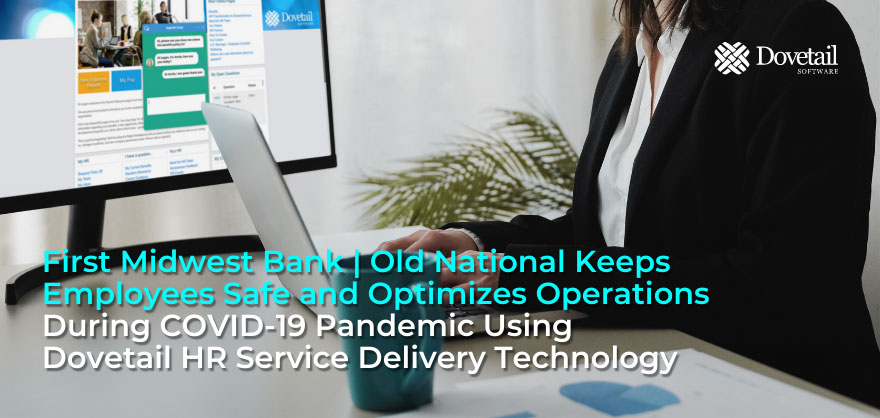 First Midwest Bank Keeps Employees Safe and Optimizes Operations During COVID-19 Pandemic, Using Dovetail HR Service Delivery Technology

During the first weeks of the COVID-19 pandemic in March 2020, Chicago headquartered First Midwest Bank, protected its more than 2,100 staff and kept open more than 100 bank branches and operations centers across 4 Midwest states, with support from Dovetail HR Service Delivery applications.

In this case study, you'll discover how they did it, gaining an understanding of how Cloud-based HR Services technology can help enterprise companies remain operational in a crisis, while offering an outstanding employee experience.
Voice of the Customer
Talking about the early weeks of the pandemic and how that led to optimizing the use of Dovetail's technology, Lori Sappington, VP HR Shared Services said:
"It started out slow and then it picked up pace - it was a domino effect. As positive cases climbed around the world, we too began to see an increase in prevalence in positivity rates among our employees and customers. Like everyone else, we had to grapple with the sheer enormity of the situation and rapidly pivot our focus to protecting the health and safety of our clients and our employees.

We had to balance this with our role as an essential business – being available to continue to serve our clients' financial needs and stay open for business.

In HR, we did not have an efficient way of tracking positive cases among employees and keeping up to date with their status and branch locations. We were already using Dovetail for case management, self-service portal and realized the solution had additional capabilities that would help us create a more effective tracking process. For example, we extended our use of the Case Types feature for COVID-19 inquiries and from that we branched down to 40 case types.

This enabled us to track everything in one central database and enable our leaders to more easily understand patterns in positive cases among our colleagues so we could quickly implement additional precautions to limit the spread of the virus and keep our bank branches open."

Challenges
In mid-March 2020, HR leaders and senior management at First Midwest Bank were trying to understand and adapt to a rapidly changing and uncertain environment brought on by the pandemic. As the virus spread, bank employees were testing positive for the virus and some bank branches were being closed for deep cleaning and to accommodate employee quarantines. At the same time, many cities and states imposed stay-at-home orders, and some employees were naturally concerned about their risk of contracting the virus. The consequence was an influx of COVID-19 related questions into HR from employees who were trying to understand the risks to themselves, their families and their customers. As Lori describes:
"There were 'questions of fear,' such as 'my colleague sitting next to me is coughing, I am nervous to come into to work.' At the same time, we were all under shelter-in-place orders, and our employees had to manage their own personal situations such as home schooling their kids, managing financial challenges or dealing with sick loved ones."
Key COVID-19 Pandemic Statistics:
2,381 extra employee cases caused by COVID-19 (March - November 2020)
30% of total caseload due to COVID-19 questions and requests
20% increase in total HR case workload during the period


Finding a solution
Lori, her HR Shared Services team and Pam Jackson, Senior VP and Head of HR Operations & Technology (HRIS, Shared Services, Payroll, Compliance) wanted to ensure that HR operations could do their part in helping to limit the spread of the virus among the workforce and keep the bank's locations open. They decided to leverage Dovetail's Employee Portal and extend the use of Dovetail HR Service Delivery application features. This was also an ideal solution because Dovetail's applications could support both on-site and remote work models, enabling the HR Shared Services team to work from home. The result was First Midwest Bank was able to effectively monitor outbreaks of COVID-19 among its employees and take immediate action to isolate infected individuals and their contacts, which ensured bank branches could stay open.


Solution Objectives
Working closely with senior management, Lori and her team determined a set of objectives for a plan that they believed would mitigate the risks to employees and the business.

Solution objectives included:
Mitigate the spread of COVID-19 among the workforce and prevent closure of bank branches.
Keep employees informed and alleviate their concerns about the pandemic and First Midwest's plan.
Boost HR productivity to cope with additional HR Shared Services workload.
From these specific objectives, Lori, her team, and senior management developed a solution that would support employees through the crisis and protect First Midwest's business.


Solution Detail
In addition to implementing several policies and processes to protect employees and customers, First Midwest focused on two key areas:
1. Address anxiety and financial stress among employees by offering new employee support programs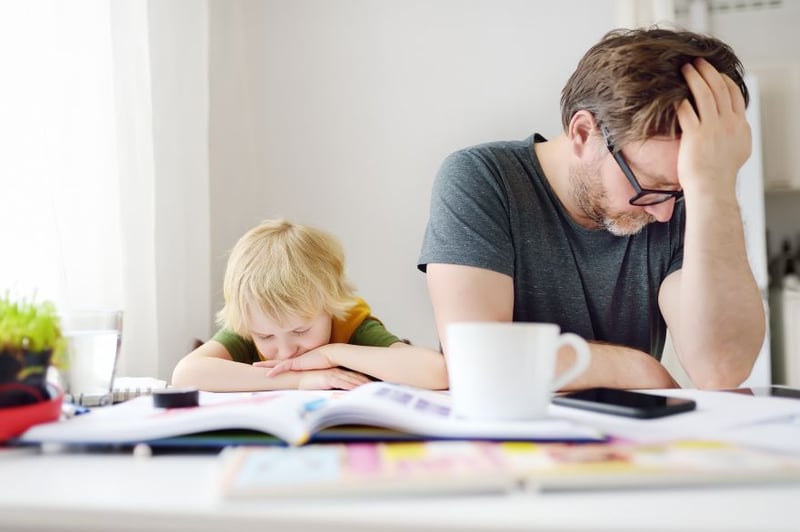 To support employees through the crisis, senior First Midwest executives implemented several programs, including enhanced benefits and PTO programs and interest-free financial hardship loans.

Lori explained how Dovetail's advanced Reporting & Analytics helped First Midwest Bank's leaders generate the insights they needed to measure the effectiveness of this program and make the right management decisions:
"Employees who wanted to access these programs needed to open up a case in Dovetail. This enabled us to easily go into the system and pull reports on how many employees used hours, or how many applied for hardship loans, as we already had categories by case type for all those inquiries. It would have been a nightmare to manually track how employees were using these programs."

2. Optimize Dovetail Software's HR Service Delivery Applications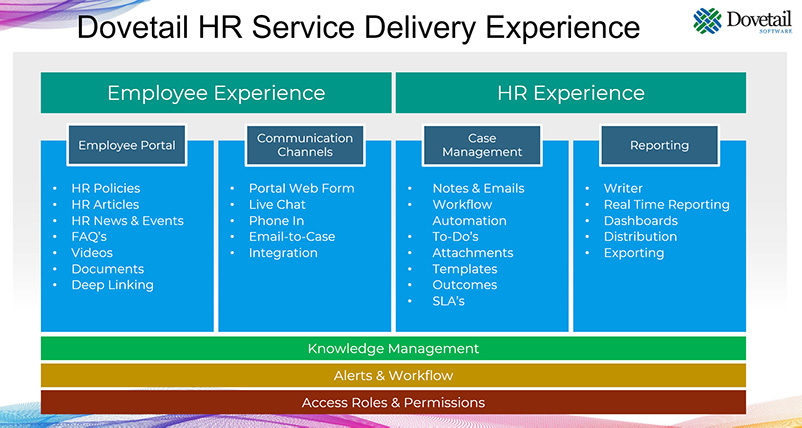 Dovetail's Suite of HR Service Management Applications
Prior to the COVID-19 pandemic, First Midwest Bank had already adopted Dovetail HR Service Delivery applications including HR Case Management, Employee Portal, HR Knowledge Management and HR Reporting & Analytics, to support First Midwest Bank's multi-tiered HR Shared Services function in delivering quality employee service management.
This meant that as soon as the effects of the pandemic hit the company's employees, Lori and her team were able to react and respond quickly by optimizing Dovetail's HR Service Management features. With the addition of Dovetail's Contact Tracing templates, First Midwest had a complete Employee Health Screening & Contact Tracing Process supported by Dovetail technology.

Going remote
Lori was also able to take the HR Shared Services team remote without a glitch, as Dovetail Cloud-based applications are built for remote and on-premise teams. In fact, Lori found that the remote working team was more productive, as team members had fewer distractions and the right collaboration tools in place.
First Midwest Bank's Multi-tiered HR Service Delivery Model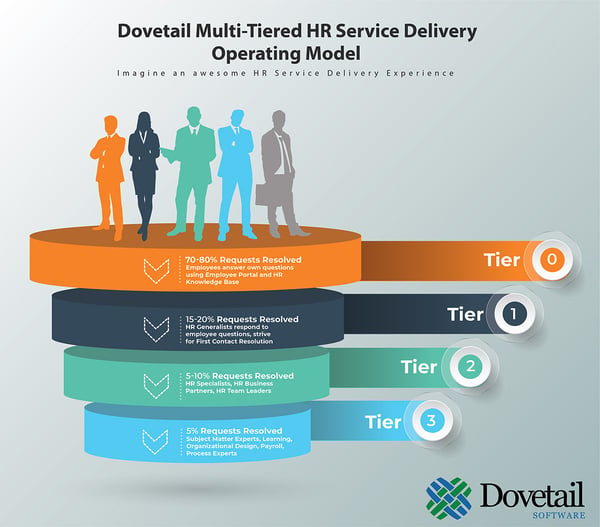 First Midwest Bank has a multi-tiered HR Shared Services model in place, supported by Dovetail HR Service Management technology:
Tier 0
Dovetail Employee Self Service Portal (branded as MyHR portal by First Midwest Bank) with Knowledge Base contains answers to employee questions in 450 Knowledge Articles. 47% of employee inquiries are in the Tier 0 category and handled through the MyHR Employee Portal:
"The MyHR portal has provided an easy way for employees to stay in the loop on all company updates regarding COVID-19. The COVID section provides a centralized location for colleagues to access pertinent information in several areas, including hardship loan applications, time codes, daily health assessments, enhanced branch procedures, and more. If an employee can't find what they are looking for, they can open a chat with an HR agent or directly open a case. This has been tremendously helpful in staying on top of the evolving COVID situation and our company's response."

Pam O'Connor, HR Program Manager, First Midwest Bank
If employees cannot find the answer to their question on the Employee Portal, they can create a "case," which will be routed to the Tier 1 support team. They can also use the email, phone or live chat communications channels to contact Tier 1 support.
Tier 1
5 HR Generalists manage incoming cases, calls, emails, and live chat. A case is immediately created for inquiries coming via phone, email or chat




If the Tier 1 Agent cannot resolve the issue, they escalate the case to Tier 2
Tier 2
2 HR Specialists with more specialist knowledge receive unresolved cases from Tier 1

Tier 3
3 Employee Relations Advisors with expertise in ER Investigations work at the Tier 3 level


First Midwest Bank's Employee Health Screening & Contact Tracing Process
Health Screening & Contact Tracing is managed by Lori and two employees on her team. The process is as follows:
Step 1
Employee working at a location takes a daily health assessment screening test
Step 2
If employee fails health assessment screening test:
They are required to open an employee "case" in Dovetail's HR Case Management system.

When this happens, an HR team member assigned to COVID-19 contact tracing activities reaches out to the employee, talks through their symptoms, and determines whether they are going to be tested for COVID-19. All this information is documented in the case in Dovetail.

If the employee tests positive for COVID-19:
They are isolated, and any colleagues they have come in contact with are quarantined.

The HR team determine contacts by going through the contact tracing questions with the infected individual, determining whether anyone at any of the locations had direct exposure to them.

A colleague who has been in contact with an employee who has tested positive for COVID-19, is referred to their healthcare provider for advice on whether they should be tested. They do not have to take a test, but they are not permitted back to work if they have symptoms.

All this COVID-19 related employee information is recorded, tracked, and reported on in Dovetail's HR Service Delivery applications.
(Learn out more about Covid-19 Contact Tracing by reading Dovetail's Ultimate Guide to Contact Tracing).
Key Dovetail Software Applications & Features Optimized by First Midwest Bank
(Comments by Lori Sappington, VP HR Shared Services, First Midwest Bank)

Self-Service Employee Portal
"I like a lot of Dovetail HR Service Delivery features. Case Types and the Case Management Query tool are among them, but the #1 feature is the self-service Employee Portal with a searchable Knowledge Base. We have more than 450 Knowledge Articles in the Knowledge Base, including answers to common employee questions, inquiries, and queries. I would need two other team members if our employees didn't have access to Dovetail's Employee Portal."

"Our employees, particularly our younger employees, love the live chat feature, accessible via the Employee Portal."


Case Types, Case Tracking & Contact Tracing Templates



"Dovetail is helping us track whether we have a COVID-19 outbreak at a location. We are able to monitor that using the Case Types feature. In fact, we're watching that very closely."

"Over the months, the insights that we've been able to generate from Dovetail metrics have enabled us to take decisive actions. For example, 'Do we need to increase the number of comp hours we have been giving employees?' and 'How many people are applying for the hardship loan?' With the data from Dovetail system, we can easily answer these types of questions and adapt or evolve our programs as needed."


"The COVID-19 tracing templates are working really well for us, particularly the Labels. The Labels enable us to track whether an employee can't come to work due to a positive COVID-case and when they are cleared to come back to work."

Results
The solution adopted by First Midwest Bank and supported by Dovetail HR Services technology achieved 6 key successful outcomes:
Enabled a better understanding of how COVID-19 was spreading amongst the workforce and limited the closure of bank branches and operation centers
Lessened employees' concerns about their safety in the work environment
Automated several processes through the Self-Service Employee Portal, equating to the workload of 2 FTE HR Employees
Increased HR Shared Services productivity by 20% using Dovetail HR Service Delivery applications
Allowed HR Shared Services team to effortlessly transition to remote working
Provided several interactive ways for Millennial employees to communicate with HR, such as live chat.

Conclusion
As a successful customer-facing financial institution comprised of essential critical infrastructure workers, First Midwest Bank had to quickly shift their energy and focus to managing through the pandemic.

Quick thinking HR leaders and their teams, along with senior management, developed and implemented an approach, supported by Dovetail HR Service Management applications to help keep its locations running smoothly, while co-protecting the health, safety and well-being of employees, colleagues and community members.

At Dovetail we feel proud that our technology was able to play its part in supporting Lori and her team during such a challenging time.

If you would like to find out more about how Dovetail HR Service Management technology can protect your employees and business during the COVID-19 pandemic, please do get in touch.


About First Midwest Bank
First Midwest Bank is the 3rd largest independent Illinois-headquartered bank with over $20B of assets, and $15.7B of total deposits, and is growing fast with a 16% CAGR in assets since 2016. It has a proud history dating back to 1940 when, in the aftermath of the Great Depression, its founders, Andrew Barber, C.D. Oberwortmann and Frank Turk, made a personal commitment to bring quality banking back to the Joliet, Illinois area, opening the Union National Bank and Trust. Headquartered since 2018 in the 'windy city' of Chicago it has 3 operations centers and 112 bank branches (locations) across 4 states: Illinois (primary territory), Wisconsin, Ohio and Indiana.

The bank's original slogan was "The Friendly Bank," which summarized the founders' commitment to creating an institution that, first and foremost, served its community by making banking services conveniently available to customers. Since then, First Midwest has grown and evolved significantly, but its mission remains unchanged: helping customers achieve financial success in the communities in which they live and work.