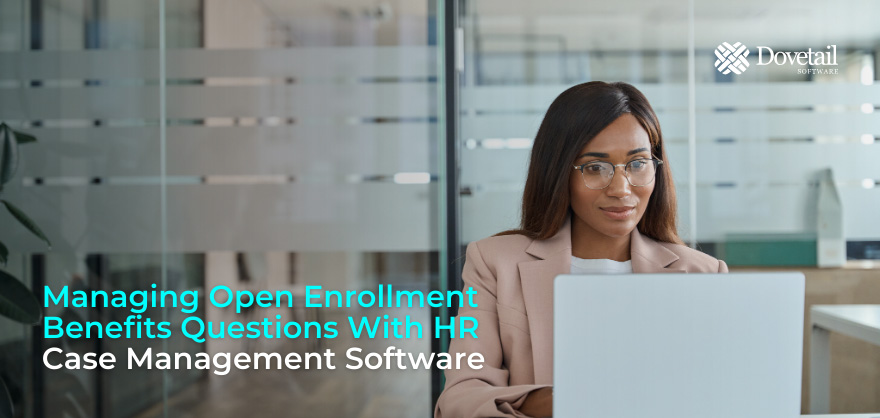 Managing Open Enrollment Questions in an HR Case Management System
In the fast-paced world of HR management, efficient communication and seamless processes are essential for ensuring employee satisfaction and operational excellence. If your organization is considering transitioning from using traditional methods like Excel spreadsheets and shared inboxes to a cutting-edge HR Case Management Software, managing employee questions about open enrollment benefits becomes significantly easier. In this blog post, we'll explore best practices for leveraging your new HR Case Management Software to streamline open enrollment benefits inquiries and enhance the overall employee experience.
Best Practices for Open Enrollment Benefits Inquiries

1. Centralize Communication: Gone are the days of sifting through endless email threads and multiple inboxes to find relevant information. With HR Case Management software, all inquiries related to open enrollment benefits can be centralized in a single platform. This allows your HR team to view, track, and respond to each query efficiently, ensuring no questions slip through the cracks.
2. Categorize and Prioritize: One of the key advantages of an HR Case Management system is the ability to categorize and prioritize cases. Create distinct categories for open enrollment-related questions, such as plan coverage, eligibility criteria, or enrollment deadlines. This categorization streamlines the process of assigning cases to the appropriate HR team members, ensuring that each question is directed to the right person for a prompt resolution.
3. Automate Responses: Utilize automation features within the software to set up immediate responses for common open enrollment benefits questions. These automated responses can acknowledge receipt of the query, provide basic information, and even offer links to relevant resources like benefit guides or FAQs. While automation expedites the initial interaction, remember that human touch is equally important, and more complex queries should be addressed personally.
4. Standardize Responses: Maintain consistency and accuracy in your communication by creating standardized response templates for frequently asked questions during open enrollment. This ensures that all employees receive the same information and reduces the chances of misinformation. Customize these templates as needed to address individual circumstances, while still maintaining a cohesive message.
5. Escalate Complex Cases: For inquiries that go beyond the scope of standard responses or involve intricate scenarios, your HR Case Management software can facilitate the escalation process. Easily route such cases to senior HR professionals or benefits specialists who possess the expertise to provide in-depth guidance.
Fig. 1: Multi-tiered HR Service Delivery Model showing how complex questions from employees can be escalated.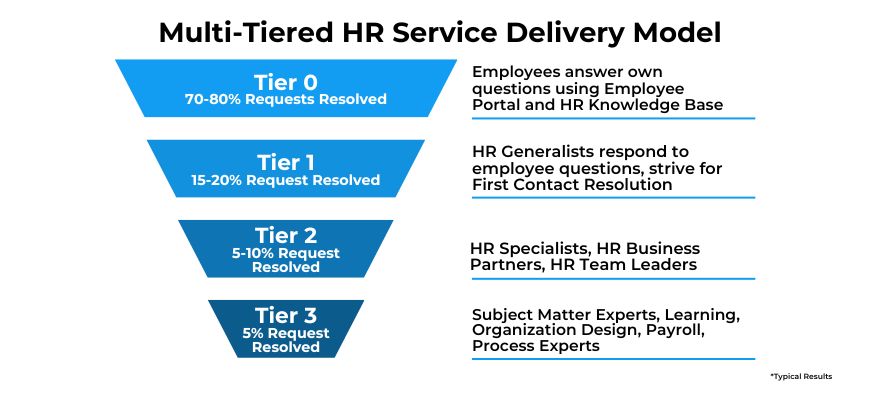 6. Monitor and Analyze: Modern HR Case Management software often comes equipped with robust reporting and analytics tools. Leverage these features to monitor open enrollment-related inquiries over time. Analyze trends, identify recurring concerns, and make data-driven decisions to continuously enhance your open enrollment process.
7. Empower Self-Service: Integrate a self-service Employee Portal or knowledge base into your HR Case Management Software. This empowers employees to find answers to common open enrollment questions on their own, without needing to submit a case. Encourage employees to explore this resource before reaching out for assistance, promoting self-sufficiency and reducing the overall workload on your HR team.
Speaking of the effectiveness of Dovetail Software's Employee Portal, Donna Nelson, Director of HR Service Delivery at Breakthru Beverage Group (a Dovetail customer) said:
"With Dovetail Employee Portal we can now communicate a lot of information to our associates. We can add a banner so that when an associate lands on the Welcome page of the Employee Portal, they can immediately see the Open Enrollment dates; from when it opens, to when it closes, and see a reminder to 'Don't forget to do it'. This has helped communicate Open Enrollment much better than before we had the Portal."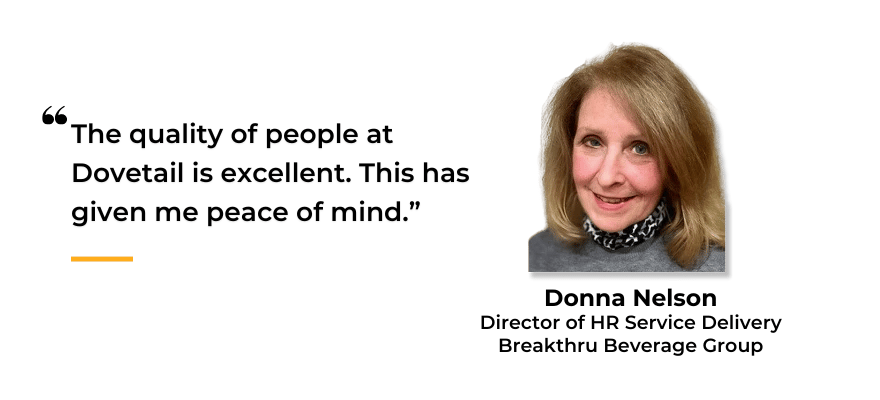 8. Feedback Loop: Embrace feedback as an integral part of process improvement. Regularly solicit input from both employees and HR staff on the effectiveness of the HR Case Management Software in handling open enrollment inquiries. Use this feedback to fine-tune your approach and ensure that the system is meeting the needs of all stakeholders.
In conclusion, if you're transitioning from using Excel spreadsheets and shared inboxes to an advanced HR Case Management software you will have a tremendous opportunity to revolutionize the way you manage open enrollment benefits inquiries. By centralizing communication, automating responses, and standardizing processes, you'll create a more efficient and satisfying experience for both employees and HR personnel. Commenting on the efficiency gains during the open enrollment period, Yen Edwards, HR Operations Manager at Northside Hospital said:
"Dovetail Software has greatly increased the efficiency of HR Services, saving hours of time. For example, it has facilitated more efficient management of open enrollment for benefits. The increased information, functions, and email capabilities allowed the team to prioritize cases and tackle the 400 to 500 cases received daily during open enrollment with ease, eliminating the common backlog of open cases from previous years. The event rules, which is part of the workflow feature, have also been a game changer, reducing time spent on case resolution."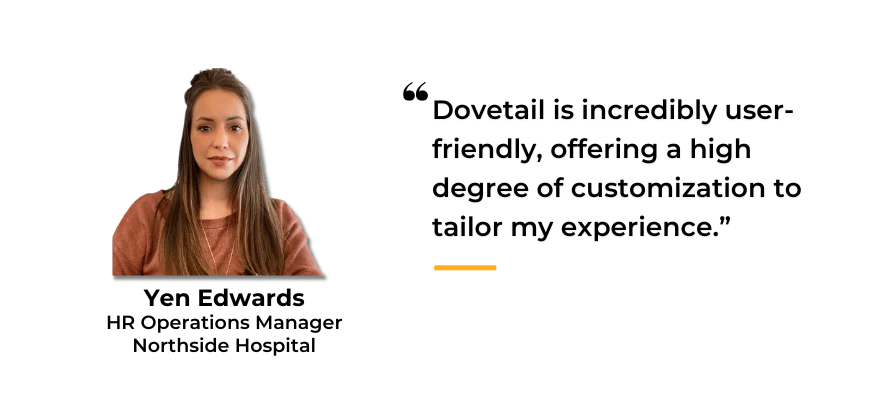 Final Thoughts on Open Enrollment Benefits Cases
The transition to HR Case Management software is not just a technological upgrade; it's a strategic move that can significantly transform the way your organization manages open enrollment benefits inquiries. The software's capabilities to centralize communication, categorize and prioritize cases, automate and standardize responses, and provide robust analytics offer a comprehensive solution to the challenges traditionally associated with open enrollment.

Moreover, the software's self-service portals and feedback loops empower employees to take control of their own inquiries while providing valuable insights for continuous improvement. As noted by industry professionals like Yen Edwards and Donna Nelson, the implementation of such software has proven to significantly increase efficiency, reduce backlogs, and improve communication during the crucial open enrollment period.

By adopting HR Case Management Software, your organization is not only investing in a tool but also in a strategy that enhances the employee experience, streamlines HR operations, and ultimately contributes to organizational excellence. Therefore, if you're still relying on outdated methods like Excel spreadsheets and shared inboxes for managing open enrollment, now is the time to make the switch and reap the manifold benefits that modern HR Case Management Software has to offer.