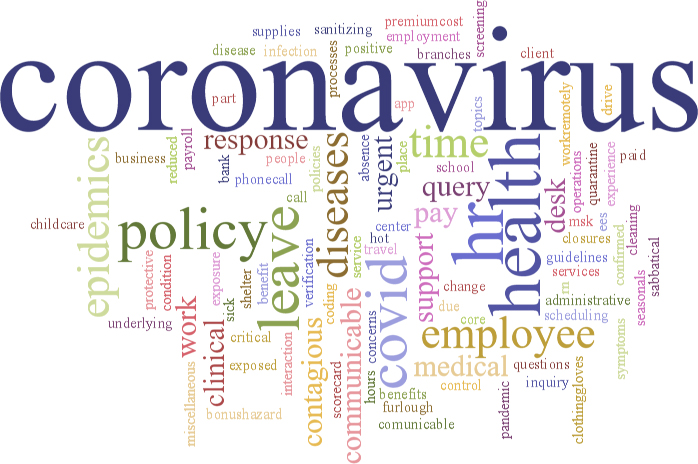 We have been tracking our customers' COVID-19 data for 7 weeks now. Each week the coronavirus-related case data (employee questions, inquiries and requests) and conversations with our customers reveals new trends, insights, and stories that enable us, and HR teams, to understand what is happening as a result of the impact of the coronavirus pandemic on organizations and their employees.
This is a weekly post where we detail our insights and analysis of the current trends our customers and we are seeing during this pandemic.
This week, our analysis identified 5 key insights, that we believe will help the HR community understand better the new world of work for employers, employees, and managers.
5 Key COVID-19 HR Insights
Insight 1: Weekly Coronavirus-related HR Case Volume has started to increase again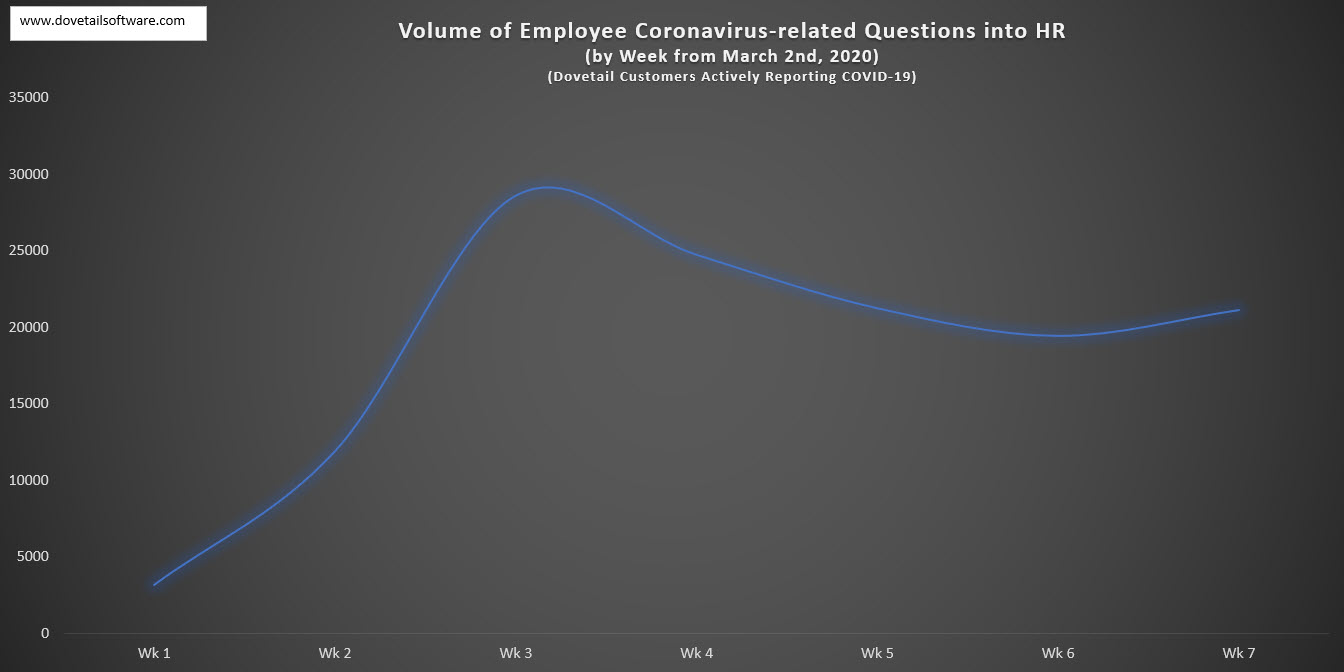 The big news from last week is that after declining steadily since week 3 (w.c. 16th March), Weekly Coronavirus-related HR Case Volume is on the rise again. Between week 7 and week 6, coronavirus-related cases have increased by 1,687 compared with a decline of 1,806 cases the previous week. A blip or an ominous sign that employees still have many more questions and requests they need responses to, as the pandemic continues to cause anxiety and worry among the world's global workforce?
Insight 2: Overall 93% of Questions Resolved by HR Teams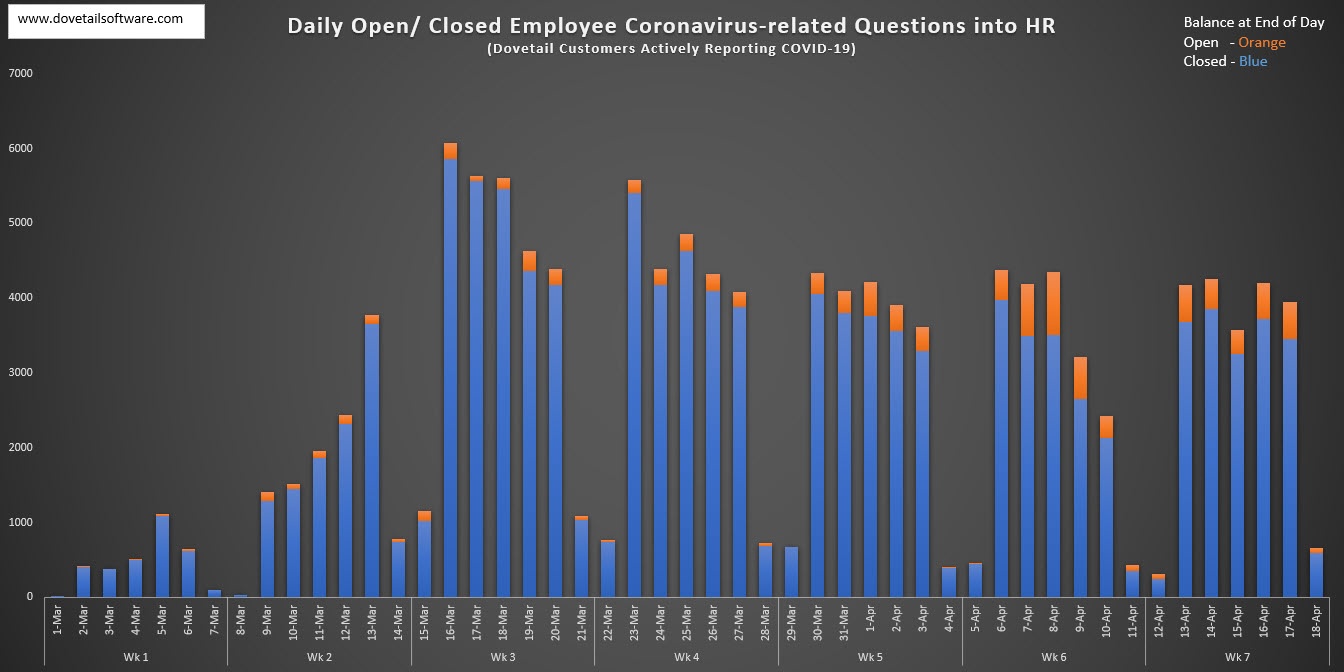 This is possibly the most insightful chart in the series. Although HR has been inundated with employee coronavirus-related questions, they have been able to record those interactions and close 93% overall. This demonstrates how fantastically well HR are working, when using HR Service Delivery technology at the right time.
Another interesting factor is that you can see as the weeks go on, the gap between closing and opening of cases widens. Based on our customer feedback during one-to-one sessions, we surmise this is due to a number of reasons: HR are being asked more complex questions, HR worker fatigue level (50-250% workload increase), additional types of questions originating from the new world of work, and cases such as furlough tracking - all of which require more time from HR to answer and resolve.
Insight 3: Case Types Help HR Manage in a Crisis
The chart above shows new coronavirus-related cases are still flooding into HR teams, with over 21,000 new cases in week 7. Since the 1st March, coronavirus-related cases have grown from 15 employee questions to 130,277. As can be seen in the chart below.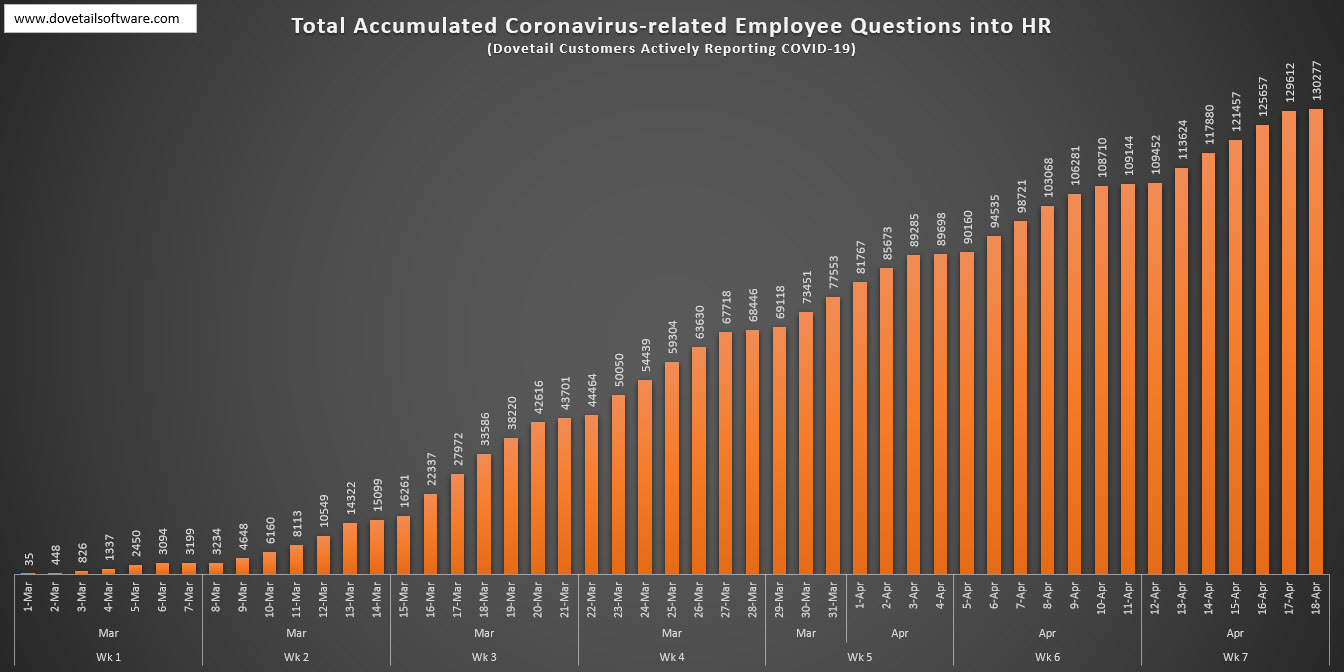 New COVID-19-related case types for employee questions included "Urgent Pay," and "Shelter in Place", highlighting employees' concerns about their future. A visually creative way we are monitoring the types of questions can be seen in the below Case Type Word Cloud. The bigger the word the greater the case volume.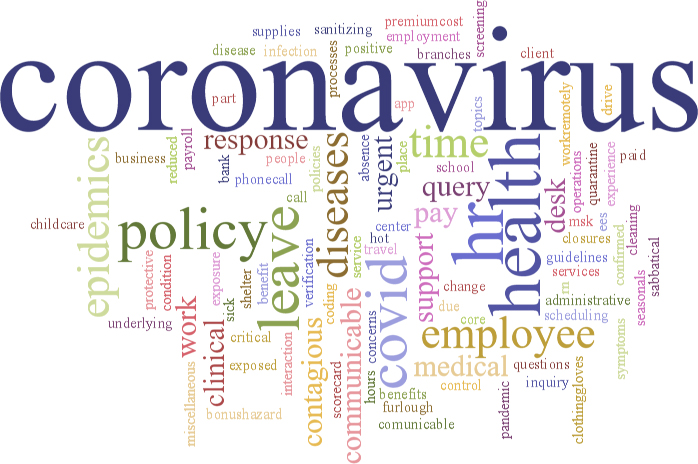 Reporting is also playing a key role for HR Managers during the crisis. In particular, the ability to create tailored COVID-19 reports and dashboards, that make use of Case Types to categorize employee questions and inquiries to help HR provide senior leadership teams with the insight they need to understand how the pandemic is affecting their employees. One of our customers, a VP of HR Shared Services Manager at Financial Services company told us:
"If I didn't have the Case Type feature it would have been such a manual process to capture all of the data for the Executive team, so it really helped to be able to break down those case types, because, 'at the snap of a finger', I can say 'we had this many employee coronavirus-related questions of a certain type today'"
She also added:
"We are providing to our Executives, on a weekly basis, COVID-19 report updates. It helped tremendously to have all of the Case Types so that we could track and pull reporting for them. My company has done a lot to help colleagues through the current crisis and the executive team is able to track these enhancements, for example, uptake and usage rates. So I would say, I probably add at least one or two case types every week."
It's clear that the Case Type feature has become more essential for creating the right granular level of reporting for HR managers and their senior executives.
Insight 4: Employee Portal with Knowledge Base enables enhanced employee communications and capability to learn from past crisis situations
Customers are taking advantage of Dovetail's Employee Portal and HR Knowledge Management functionality to enable employees to find answers to their own questions online, and this means cases are being deflected; employees do not need to contact HR via Phone, Email, or Live Chat. One of our customers, Krissy Murdock, Director of HR Shared Services at Memorial Hermann Health System told us:
"Using Dovetail, we built out a separate COVID-19 resource page all around childcare, pay practices and different HR policies for our leaders. All these resources needed updating because of the coronavirus pandemic. So it's really been great that we have the Dovetail Employee Portal for this."

Krissy Murdock, Director of HR Shared Services, Memorial Hermann Health System
Krissy went on to say that the feature that enables employees to leave feedback about Knowledge content has been really helpful, as she has been able to make 'some really great enhancements' to the Knowledge content as a result.
Interestingly, the HR Knowledge Base (accessible via the Employee Portal) has helped in other ways too. Back in August 2017, Hurricane Harvey hit Houston, Texas hard, with the city being flooded. As the majority of Memorial Hermann staff are based in Houston this caused severe problems for employees. Since the lessons learned from that disaster were documented and stored in Dovetail's Knowledge Base, Memorial Hermann were able to speed up the process of managing during the crisis caused by the coronavirus pandemic. For example, Krissy immediately had at her fingertips, what emergency actions did the company take during Hurricane Harvey, what kind of resources were made available to employees and what were the criteria for payroll advances (among many other mitigation activities). Krissy told us:
"The fact that we could learn from past disasters and leverage previous Knowledge content, rather than create it from scratch, has been a great thing to be able to do and has enabled us to be agile when time is of the essence. I hope to never see another crisis like this again, but I know if I do, we've got the structure in place and our knowledge base enables us to be a lot smarter and faster about managing and supporting our employees during a crisis."

Krissy Murdock, Director of HR Shared Services, Memorial Hermann Health System
It appears that the knowledge HR will obtain from dealing with the current crisis can be stored in an HR Knowledge Base and be accessed and used by HR to help mitigate future risks and manage in a crisis environment.
Insight 5: Employee Choose Email over Phone for Communicating with HR
Another big change this week has been the sharp increase in the use of the Email channel at the expense of the Phone channel. We will be speaking with our customers to determine why this is. Our first thoughts are that as employees become more educated about the pandemic, and have less queries that require numerous follow up questions, they are more comfortable using email as a channel of communication.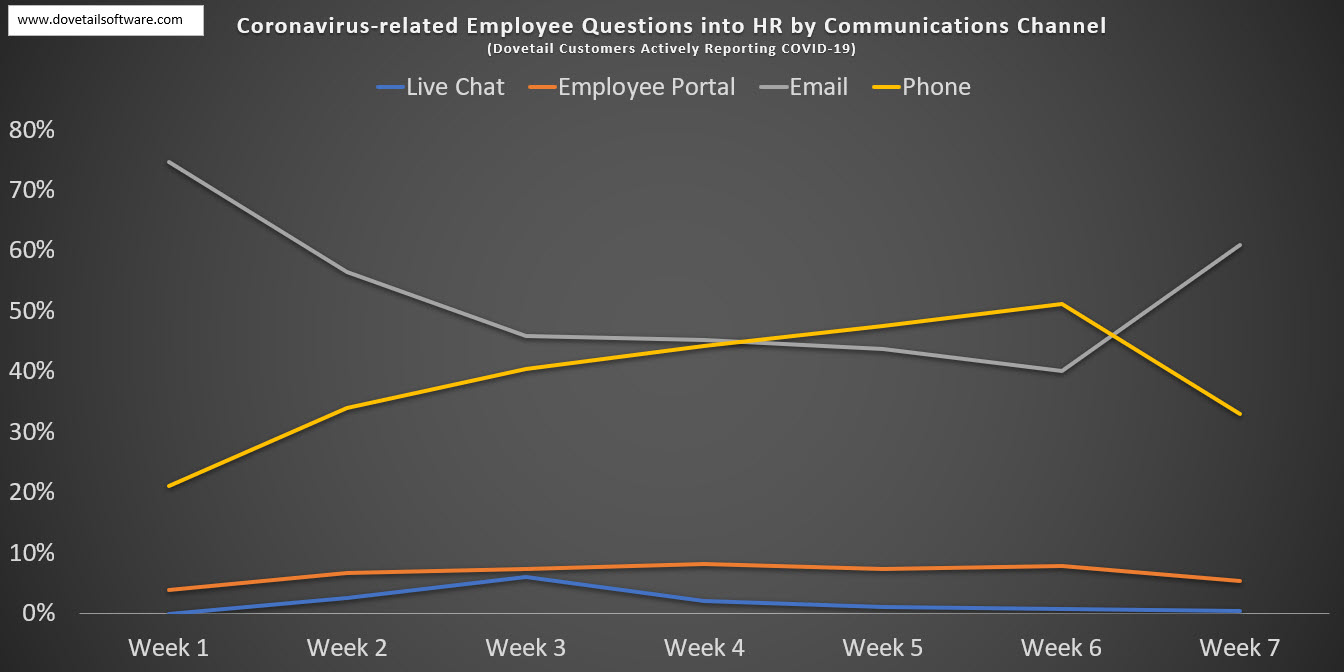 As we would expect, the Employee Portal only accounts for a small proportion of cases since, as employees find answers to their questions (from FAQs, Guides and the Knowledge Base) on the portal and are 'deflected' from creating new cases into HR.
We hope you enjoyed reading this analysis. Please come back next week for the week 8 insights!
Please share this page with your networks, and make contact with us if you have any questions.
Click here to view Dovetail's Daily Updates for HR on the coronavirus.
Please click here if you would like to find out more about how Dovetail can help you during the coronavirus pandemic.